Why should consumers invest in an All-in-One desktop?
Nowadays, consumers prefer to buy products that are compact and ergonomically designed. Products that would save their effort, time, money, and space are a must have. For computers, the All-in-One desktop PC has all of these qualities.
With this kind of computer, consumers don't need to worry about buying separate parts such as a monitor, keyboard, mouse and speakers. The only wire that this type of computer has is the power cord. Most All-in-One desktops use touch screen technology as well.
Almost all computer manufacturing companies have their own version of an All-in-One desktop computer. Consumers are going to have a tough time deciding which one they should get since each model was designed to fit the needs of modern man.
To help consumers with this endeavor, here are some of the latest 2014 and top of the line All-in-One desktop models in the market today:
• 6th gen Intel Core i5-6400T processor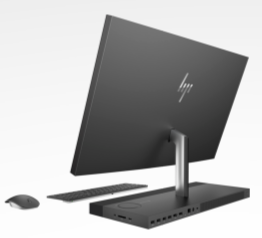 • 128GB SSD
• 8GB memory, expandable to 16GB
• Touch-enabled 27″ diagonal QHD IPS WLED-backlit (2560 x 1440)
• Price starts from $1049 >

The first on the line is this customizable desktop that has a powerful multi-touch 27 inch widescreen QHD display. Gamers would enjoy the fact that it can be connected to a game console. While movie lovers can watch their movies on the high definition screen.
This gadget is so easy to set up; just plug it in, connect to the modem and router and it will proceed with the set up on its own. This efficient, fast and easy to learn All-in-One desktop can be placed anywhere, be it the kitchen, the living room or bedroom. This desktop also has a built in 128 SSD + 1 TB HDD storage.
Product # V9B02AA#ABA_PC
• 5th generation Intel Core i7-5500U Processor 2.40
GHz with turbo boost
• up to 256GB SSD
• 8GB Memory
• NVIDIA GeForce GTX850A 2GB graphics
• 27″ FHD LED All In One Multi-touch (1920×1080) display
• Price starts from $1099 >
Lenovo claims that this is the thinnest All-in-One desktop in the market today with just 0.77″. This desktop offers a screen that measure up to 27 inches diagonally. The classic design, which is a Lenovo trademark, is reinforced with a gorgeous chassis of solid metal providing a clean and attractive finish.
Aside from being gorgeous, this desktop is ergonomically designed; consumers would not have a hard time typing on the touchscreen screen since it can slide down to an angle. This additional feature makes it easier for gamers and workers alike. Consumers would also enjoy the fact that its specifications are at par with its competitors. Read full review >
• Intel Core i5-7400T processor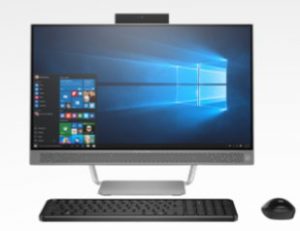 • 12GB memory
• Operating system: Windows 10 Home 64
• 1TB 7200 rpm hard drive
• 27" diagonal FHD IPS WLED-backlit (1920 x 1080)
Product #V9B54AA#ABA
A customizable All-in-One desktop that works well for those who are into music. Those who own HP will enjoy B&O PLAY Audio. Aside from its stable base and attractive design, consumers would also enjoy the adjustable stand design and glass display.
It has WI-Fi and and Bluetooth combo connectivity capability. For those who enjoy video conferencing, you can use integrated HP TrueVision HD webcam that works well even in areas with low light.
• 6th gen Intel Core i5-6400T processor (2.2 GHz, up to 2.8 GHz, 6 MB cache, 4 cores)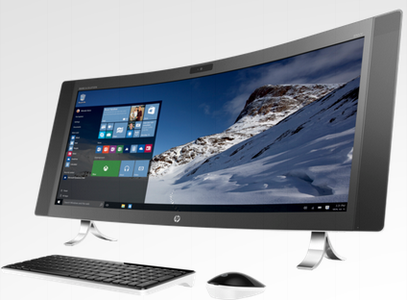 • 12GB memory, upgradeable up to 16GB
• 1TB hard drive
• NVIDIA GeForce GTX 960A (2 GB GDDR5 dedicated) graphics
• 34″ curved diagonal widescreen WQHD LED-backlit (3440 x 1440) display
Product # M9Z77AA#ABA
• Price starts from $1299 >
The world's widest curved All-in-One desktop features 34″ curved diagonal widescreen WQHD LED-backlit (3440 x 1440) display, excellent audio by Bang & Olufsen powerfull 6th generation Intel Quad Core processor and dedicated NVIDIA GeForce GTX 960A graphics
• 6th gen Intel Core i7-6700HQ processor

• up to 32GB memory
• 2TB 5400 rpm hard drive
• up to 27-inch all-in-one 4K Ultra HD display (with optional touch)
• Price starts from $1499 >
This touch screen system based All-in-One PC packed with superb 27 inch display and surround audio. This All-in-One PC is for consumers who enjoy watching movies and videos, thanks to AMD R9 M485X GDDR5 with 4GB graphics memory.
With its fast and easy to navigate interface, consumers would not have a hard time doing their workloads at home. Its design and specifications are at par with its competitors. Even computer programmers enjoy working with this machine.
Conclusion
You will be delighted to know that these All-in-One desktop offers at least 1TB hard drives and some can even have 3TB after customizing. No machine is perfect; some may have superior sound, while others have superior display quality.
So it is up to the consumer to choose which of these All-in-One desktop will satisfy his or her needs. No matter what model you choose, the All-in-One desktop would definitely be a wise buy.
Related Articles
Top 5 Laptops Running With Latest Intel Core Processors
Top 5 Most Popular High Performance HP Laptops
The 5 Most Popular Dell Laptops
Top 5 Laptops for Students Under $599