Toshiba is a well-known manufacturer of computers and other electronics. The company has been in business for many years, and has earned a reputation for making quality products.
Toshiba laptops are no exception to the rule; these are fine machines that will give you years of service. This article will try to help you choose the best customizable Toshiba laptops with Windows 10  for your needs.
Up to 5th generation Intel Core i7-5500U  processor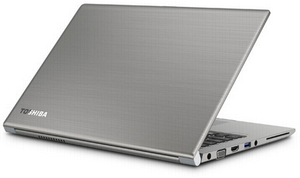 Up to 16GB 1600MHz DDR3 memory
Up to 512GB solid state drive
Mobile Intel HD  graphics
LED backlit Raised Tile keyboard
Up to 13" FHD TFT LED touchscreen display (1980×1020)
Battery life up to 12 hrs
Weight 2.6 lbs. and 0.63″ thin
Price starts from $849 >
This is a great computer for a college student or anyone that puts a premium on portability. At 2.6 pounds this Toshiba laptop is very lightweight and portable. This laptop is also Toshiba's entry into the world of the Ultrabook laptops. Ultrabook's are lightweight, powerful laptops, the Portege fits these requirements. Even though this computer is ultraslim, it still has all of the power you will need for school work or any other task you may have. The back-lit keyboard comes in handy when you need to work in less than perfect lighting conditions. Most Toshiba laptop models come with back-lit keyboards.
The next two laptops we will talk about fall into a category that is called Desktop Replacement, or DRC computers. Simply put these laptops are designed replace your desktop, and although they are heavier and thicker than most laptops they still afford you mobility a desktop cannot offer. Learn more about the Z30 >
up to Intel Core i5-5200U 2.7GHz with turbo boost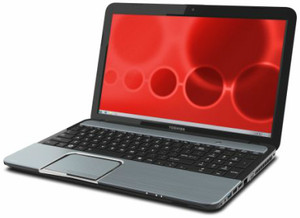 up to 8GB memmory
up to 1TB hard drive
Integrated Graphics
Optical Drive: DVD SuperMulti drive
17.3" HD LED display, 1600×900 resolution
Weight 5.9 lbs
Price starts from $449 >
This Toshiba laptop is great for those that do not mind a little extra weight. This is one of two mid-sized laptops we will discuss. If you need a great deal of power, and a lot of storage space this is the computer for you.
This is a great computer for the office, for those that do a lot of work that is graphics intensive, or for those that like to play video games in their spare time. This would also be a great choice for anyone that uses their laptop to watch movies, videos, or use their computer for entertainment. Another advantage of this Toshiba C70 laptop is that it can be customized to fit your needs. You can upgrade the RAM, the hard drive, and the DVD drive can be upgraded to a Blu-Ray rewritable drive. Read more>
4rd generation Intel Core i7-4710HQ Processor 3.50GHz with turbo boost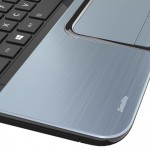 4GB memory, expandable to 16GB
up to 1.0TB (5400rpm); Hybrid 8G Serial ATA hard disk drive
Graphics: up to 2GB GDDR5 AMD Radeon R9 M265X
Optical drive: Blu-ray Disc RE with SuperMulti DVD±R/RW
LED backlit raised tile keyboard
up to 17.3" FHD 1920×1080 LED display
Battery life: up to 4 hours
Weight 5.9 lbs
Price starts from $799 >
This is the ultimate Toshiba laptop, not only will it replace your desktop, it is the decent gaming computer. If you need a computer that will help you get your work done during the day, then allow you to play the latest video games at night this is the laptop you should purchase. The S70 is powerful; it has a large HD screen, and large amounts memory all of which can be upgraded. It has the best speakers of any of the other Toshiba laptops and the best graphics. Read full review >
up to 5rd generation Intel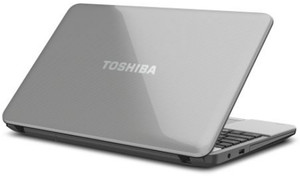 Core i7 processor 3.0GHz
up  to 16GB memory
up to Windows 8.1 Pro operating system
up to to 2TB hard drive
Mobile Intel HD graphics
optical drive: DVD SuperMulti (+/-R double layer) drive
up to 15.6″ FHD TruBrite LED Backlit Display (1920 x 1080)
Weight 4.85 lbs
Price starts from $429 >
This laptop is another of the mid-sized laptops that can do anything you need. If you cannot afford the S50 above this is a less expensive version of the laptop. The main difference in these computers is the graphics. While this computer also has an HD display the graphics card is not quite as good as the one in the S50. This means that the L50 is still a great computer for most applications, but for gamers you may not get the great graphics you would see on the S50. This Toshiba laptop is also customizable to fit your needs.
Up to Intel Core i7-6500U Processor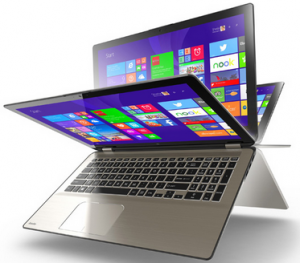 up to 16GB DDR3 memory
Operating system: up to Windows 10 Pro
Up to 1.512SSD hard disk drive
up to 15.6″ 4K Ultra HD TruBrite LED Backlit touchscreen display, resolution (3840×2160, 300NIT)
Weight 4.98 lbs
Battery life up to 7 hours
Price starts from $999 >
This Toshiba Radius offers a 15.6″ screen and a lot of power. Along with a high screen resolution, and unbeatable speed, and power this laptop also gives you a lot of memory. You have a large hard drive and ample RAM, you can also upgrade both of these if you need more memory.
Read more >
Conclusion
Toshiba laptops are great computers so you can purchase a Toshiba laptops with confidence. As pointed out in the article, what you do with your laptop should be the basis of which of these great computers to purchase.
The Portege offers a great deal of power in a lightweight, portable package. The three mid-sized models are great for those who need a lot of power and are less concerned with portability. The other two are great for those who need all of the power of a desktop, but do not want to be tied down to a desk.
Further Reading
The 5 Most Popular Dell Laptops 
Top 5 Most Popular HP Laptops 
The Top 5 Powerful Gaming Laptops