After Lenovo announced that the Y50 and Y40 laptops will be representing their gaming line, audiences were expecting a 17-inch counterpart in the guise of a Lenovo Y70.
This did not happen until recently. The tablet-hybrid mogul had to give the Y50 a 4K display face lift before launching a bigger, better, more spacious gaming rig.
[gss-content-box] Weekly Deals for the Lenovo Y70-70 Touch: 
CLICK TO COMPARE ALL MODELS >
[/gss-content-box]
The Lenovo Y70 Touch looks and feels exactly like the Y50. Its only available model sports a highly responsive multitouch display.
Now, this goes to question if Lenovo actually listens to its consumers. Is the Y70's screen better than the Y50's?
Great Display, Better Gaming Experience
At first glance, the Lenovo Y70 is just like a blown-up Y50. It's built with the same sleek brushed metallic finish, crimson-hued spacious keyboard, and stylishly grilled JBL speakers.
What about the screen? Fortunately, after the mistake of giving the Y50 an unbearably dull and abysmal LCD Panel, they made it a point to recover with the Y70 Touch. The viewing angles and brightness are significantly better than its predecessor's.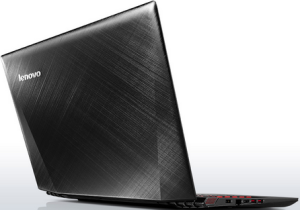 In terms of performance, both laptops come armed with powerful Haswell i7 processors and 4GB NVIDIA GeForce GTX 860M dedicated GPUs.
Expect consistent 60fps frame rates on games like Metal Gear Rising: Revengeance at moderately high settings using FHD (1920 x 1080-p) resolution.
Sure, it doesn't have Dell Alienware 17's monstrous 8GB (GTX 880M) video card, but carrying a Lenovo Y70 Touch (weighing at 7.5 lbs) is far less of a chore than having to lug a 9.5-lb Alienware beast or an 11-lb Digital Storm Krypton.
Slim Gaming is In
These days, even gaming rigs are built slim. In fact, a number of boutique vendors have squeezed in more power inside a thin chassis. The absence of an optical drive and-regretfully-some expected port additions have trimmed the Lenovo Y70 down to a few pounds.
With slightly thicker edges, this gaming desktop replacement (measuring at 1.02″) is no match for the Razer Blade Pro whose bulk is at 0.88 inches. On the other hand, Blade Pro buyers will have to cough up more than just the usual add-on charges to cover the massive price difference.
Things to Consider Before Buying the Lenovo Y70 Touch: Pros and Cons
Every time Lenovo releases a new line, everybody in the tech industry gets excited. With their out-of-the-box thinking and amazing partnerships, they're always ahead of their rivals. The launch of the reasonably-priced Lenovo Y70 is proof that the large Chinese company actually reads customer complaints.
Among the many benefits of choosing the Lenovo Y70 Touch are as follows:
1. Better display. After the gaming community's apparent disappointment with the Y50's subpar screen, Lenovo made sure that the Y70 won't suffer that same fate. Angles and images are significantly better and brighter now.
2. Great price-to-performance ratio. Perhaps it's no Dell Alienware 17. Nonetheless, at almost half the price, the Lenovo Y70 provides and serves its purpose as a satisfactory entry-level gaming laptop.
3. Slim and not-too-heavy. With thin being in, gaming rigs are losing the extra bulk to qualify for ultrabook standards. Although not yet there, the Y70 Touch is closely transforming into the perfect find: an affordable and slim laptop with powerful specs.
4. Surround-sound immersion. As far as partnerships go, choosing JBL speakers for their devices is one of the best decisions Lenovo's made. Sounds may not come out as good as coming from a decent pair of speakers, but at the price this model is being sold at, players won't be disappointed.
It's one thing to launch the 17-inch counterpart of an entire line late; it's another to have it built exactly like its smaller models.
Here are just some of the things worth noting before buying a Lenovo Y70 Touch.
1. No additional ports. The absence of an optical drive is forgivable, but making a larger gaming laptop whilst not adding new connection options is annoying. The Lenovo Y50 and Y70 are completely alike in terms of connectivity.
2. No 4K display yet. Although not necessarily a bad thing, a 4K display is a great option to have.
Verdict
The Lenovo Y70 is a 17-inch workhorse that's ideal for gaming. Its price is a steal, and its display is significantly better than that of the Y50's. Even though Lenovo has yet to announce a 4K display for this powerful and slim gaming rig, the full high-definition panel it comes with won't bring about displeasure.
It's always the buyer's choice whether to pay a little extra for higher horsepower, lighter bodies, and even crazy lighting customizations. What the Lenovo Y70 offers however is an entry-level, high price-to-performance ratio gaming laptop that's attractive and cheap. It's a steal for gamers, video editors, students and young professionals looking for a modern desktop replacement.
Lenovo Y70 Touch  specifications:
Display: 17.3″ FHD LED AntiGlare Multitouch with integrated camera, resolution (1920×1080)
Processor: 4th Generation Intel Core i7-4720HQ (2.60GHz 1600MHz 6MB)
Operating System: Windows 8.1 64
Memory: up to 16.0GB PC3-12800 DDR3L 1600 MHz,
Graphics Card: up to NVIDIA GeForce GTX 860M GDDR5 4GB
Hard Drive: up to 512GB SSD
Weight: 7.5 lbs
Battery life: up to 5 hours