It must have been Lenovo's dream to beat Apple at something, and perhaps they've already done so with the Lenovo Y50 UHD. Among its many bragging rights is the title of being the first 4K mobile gaming rig.
At its finest, it can have a 15.6″ ultra-high definition LED display that will work wonders on the gaming experience.
The retina MacBook Pro's display, featuring a 2880×1800 pixel resolution, doesn't stand a chance against the Lenovo Y50's 3840×2160 UHD screen.
[gss-content-box] Weekly deals & coupons for the Lenovo Y50-70 UHD:
Lenovo Y50 UHD Laptop Overview
It's not often one hears the word casual and beast in the same sentence. For this particular Y series, this description fits well.
Why casual? Let's start with the Lenovo Y50's physical appearance. It has a thickness that is less than an inch, 0.9″ to be more precise.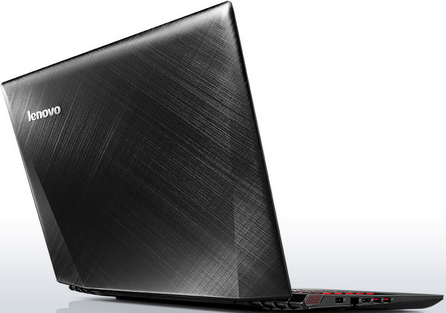 The black aluminum finish and matte, metallic surface on the keyboard ensures it gets noticed for its sleek appearance, modern style, and elegant design.
If not for its 15.6″ screen, most people would never have assumed it was a gaming rig with so much power packed into it. In comparison to the Y510p,
SEE IT
while its older brother had an acceptable bulk weight at 5.95 lbs, this gaming device is relatively lighter starting at 5.3 lbs.
The Lenovo Y50 packs the mighty NVIDIA GeForce GTX-860M video card that can play the most modern games at high to ultra-high settings. Its best assembly sports a 4GB GTX-860M with Maxwell architecture.
A Cinebench R15 OpenGL test rates it with a whopping 95.0 fps. Its 3DMark 13 scores aren't bad either as results prove that it could keep up with last year's 770M Kepler series. To simplify things, this GPU will blow Lenovo's Y510p's GTX755M away.
Lenovo Y50 UHD Beats the Heat
One of the most prevalent problems in gaming laptops is their heat under load. This is where the Y50 will outshine its competitors including the MSI GS60 2PC Ghost.
Thanks to the two fans at the Y50's exhaust ports, gamers wouldn't have to worry about parts overheating. They both function silently unless the user starts playing graphic-intensive games or exporting high resolution video clips.
Against Sager NP8268's temperature rating, the Lenovo Y50 may be a little handicapped. This could be due to the NP8268 being heavier, thicker, and running an earlier video card.
One of the Best Sounding Laptops on the Market
Enjoy realistic audio output and background music with the assistance of Dolby Advanced Audio. There's no other way to put it; new owners should just expect to give it score of 10 out 10 on sound quality. This feature is made possible by Lenovo's choice to assemble the Y50 with JBL speakers and a subwoofer at the bottom.
Video chatting and conferencing hadn't been left out either. Comments on the sound have ranged from being crisp and clear to exceptionally accurate.
Is the Lenovo Y50 UHD the Perfect Gaming Laptop? (The Cons of Buying a Y50)
The answer is yes and no. In terms of price-to-performance ratio, this laptop is just too good miss out on. It's a digital boon in the gaming world.
With such qualities that include a slim profile, amazing graphics, out-of-this-world audio performance, and cheap price, trade-offs remain inevitable.
For one, because Lenovo had to cut back on the space, this gaming rig does not have an optical drive. Also, despite its outstanding tactile feedback and key travel, some owners have described the keyboard as being squishy.
Another noticeable flaw that the multinational computer company has stubbornly pushed through with is the amount of bloatware the system has. Uninstalling a few of the applications bundled with it can dramatically hasten the start-up time.
Conclusion
To sum it all up, the Lenovo Y50 UHD has a little bit of everything and more. It being the first to have a 4K optional display on a 15-inch puts Apple's retina MacBook Pro's prized resolution to shame.
Furthermore, the combination of thinness and portability relative to its graphics and cooling capabilities make it a worthy addition in 2014's top gaming laptops roster.
Yes, it may not be a hardcore gamer's dream rig. In fact, remarks have already been posted on some of its minor issues such as: the non-IPS display, the lack of an optical drive, and massive bloatware infestation.
Still, for students, graphics suite users, CAD operators, video editors, and casual gamers, the Lenovo Y50 proves to be one of the best feature-packed device on the market.
Where to buy the Y50 UHD?
Quick specifications:
Processor: 4th Gen Intel Core i7
Operating system: Windows 8.1
Display: 15.6″ UHD LED Glossy, resolution (3840 x 2160)
Graphics: NVIDIA GTX 860M
Up to 16GB DDR3L memory
Up to 512GB SSD or Hybrid 1TB 5400 RPM+8GB SSHD
Up to 5 hours' battery life
Weight: 5.3 lbs
Price starts from $949 >