Hybrid laptops are quickly becoming everyone's computer of choice. It makes sense, too. People want the portability and often the touchscreen functionality of a tablet, but with the role computers play in our professional lives, most of us need the extra power and full keyboard that come with a laptop. Hybrids provide the perfect combination of the two.
If you're looking at picking up a hybrid , here are the top five choices in terms of quality and price.
The biggest selling point of the previous Yoga was the easily rotating screen that flipped on the flexible hinge.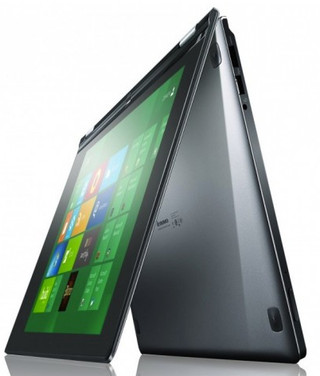 The Yoga 3 11 has kept this trait and has gotten even smaller, though it is still large for a tablet.
As you would expect from the second in a line, it has also undergone some performance upgrades, with powerful 5th generation i5 processor builds available and a 256GB SSD.
Pros: Easy to use and can stand up to lots of travel. Includes connectivity options with USB and HDMI ports.
Cons: Battery life on the short end, clocking in at about 6 hours.
Summary: The Yoga 3 11 is a solid machine and also a good value. Prices start at $679, and $869 will get you a build that can power through pretty much anything. For a hybrid laptop, these are very good prices.
Specifications:
Up to Intel Core i5 processor
Operating system: Windows 8.1
Intel HD Graphics 5300
up to 8GB DDR3L memory
up to 256GB SSD
Battery life: up to 6 hours'
Display: 11.6″ FHD LED AntiGlare Multitouch (1920×1080)
Weight: 3.6 lbs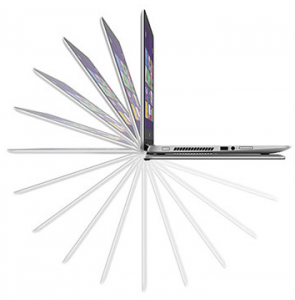 Lenovo's Yoga might have pioneered the 360 hinge, but other companies have now integrated similar flip solutions into their hybrids.
The ENVY x360 is one that now includes this flip hinge solution that allows you to go from using the computer exactly like you would use a normal laptop to flipping it around to use just like a tablet.
GET DEAL>
Pros: The price. Extremely affordable and customizable all-around machine.
Cons: Pretty short battery life, at not even 8 hours. Heavy for a tablet. Pretty low display resolution for the base model.
Summary: Starting at $649, the ENVY x360 is a great choice if you need a machine on a budget that will keep up with your busy lifestyle. Read more >
Specifications: 
Processor: Intel Core i5-5200U with Intel HD Graphics 5500
Operating system: Windows 8.1 64
Memory: 8GB
Hard Drive: 1TB 5400 rpm
Display: 15.6″ FHD LED-backlit touch screen, resolution (1920×1080)
Weight: 5.29 lbs
Battery life: up to 7 hours
The XPS 12 is very slim and sleek, exactly the type of machine that everyone wants to be seen using.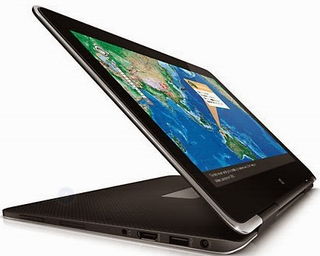 Its solution to the problem of what to do with the keyboard while the machine is in tablet mode is to make the keyboard flat and pressure sensitive rather than having moving keys, to avoid awkward clicking and potential damage to the keyboard.
Pros: Extremely high screen resolution and sound quality, long 9-hour battery life.
Cons: The keyboard may solve the problem with the tablet mode, but it feels odd to use in laptop mode.
Summary: With prices starting at $1099, it isn't too much more expensive than the larger Yoga 2 models and is sleeker and chicer.
Specifications: 
Processor: 4th Generation Intel Core i5
Operating system: Windows 8.1
Memory: 4GB
Hard drive: 128GB SSD
Display: 12.5″ HD LED Backlit Touch Display,  resolution (1920 X 10800)
Weight: 3.4lbs
Battery life: up to 9 hours
Graphics: Intel HD 4400
The first thing that you will notice about the Click 2 Pro is that the hinge mechanism is very different from what you may be used to seeing on other hybrid computers.
In order to detach the keyboard from a tablet, all you need is to push a tablet down.
Pros: Great appearance, high quality, great laptop.
Cons: Relatively short 6 hour battery life, few ports, and its laptop mode far outshines its tablet mode.
Summary: If you're looking for a powerful machine that has some tablet capabilities, the Click 2 Pro fits that description perfectly. Read more >
Specifications:
Processor: 4th gen Intel Core i7-4510U
Operating system: Windows 8.1 64-bit
Display: 14″ HD LED touch display, resolution (1920 x 1080)
Memory 8GB RAM
Hard Drive: 256GB SSD
Weight: 4.5 lbs with dock
Battery life: up to 6 hours 30 minutes
The ENVY x2 is easy to set up and it's highly responsive.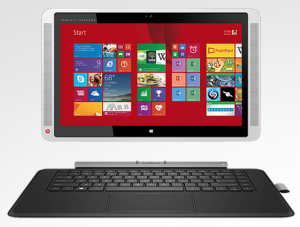 You can tailor it to whatever you need, and with USB and HDMI ports, you can easily connect to your other devices as well.
The transition from laptop to tablet mode is very smooth.
Pros: Good sound quality, big screen size, great processing power.
Summary: As far as performance and the ability to keep up with an on-the-go lifestyle, the Envy x2 delivers both in one amazing hybrid package. The touchscreen functionality makes this the perfect machine to run Windows 8.1
Specifications:
Processor: Intel Core M-70 with Intel HD Graphics 5300
Operating system: Windows 8.1 64
Memory: 8GB
Hard drive: 256GB  SSD
Weight: 4.05 lb (tablet and base)
Battery life: up to 7 hours 15 minutes
Conclusion:
If you need to get work done in a variety of places, whether it is for your job or as a student, a hybrid computer may be the perfect device for you. It provides you with a wide array of tools in a small, portable package.
When buying electronics, budget can often be an issue, but the fact is that skimping when you buy will only mean you'll have to replace the device sooner. Instead, go for something that you know will work great and be able to handle constant use. Pick a top quality hybrid laptops like one of these five!