Yoga fans will be pleased to hear that the Lenovo Yoga 2 Pro ultrabook has surpassed the expectations of the masses. Aside from sporting a QHD screen which puts it on the same level as the Samsung ATIV Book 9 Plus, Toshiba Kirabook and Retina MacBook Pro, it's slimmer, lighter, and better in aspects Lenovo customers have been asking for.
[gss-content-box]Weekly deals & coupon codes:
FREE shipping on all computers plus save with ecoupons:
Compare all Yoga 2 Pro models >
[/gss-content-box]
 Lenovo Yoga 2 Pro: Thinner, Lighter, Faster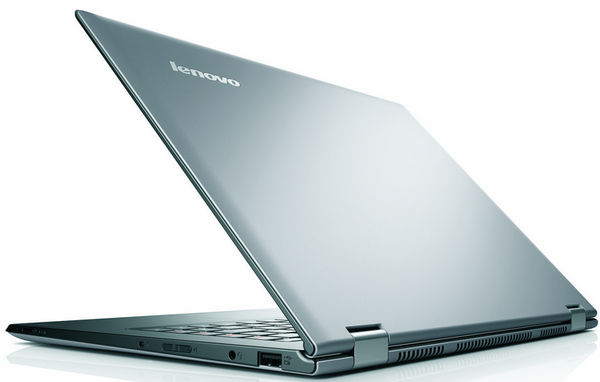 The Lenovo Yoga 2 Pro is an obvious upgrade in terms of build, performance and visual capability. For those who are seeking answers on how it is better than the Yoga 13, this is the right piece to read.
Build and Design
At first glance, the Lenovo Yoga 2 Pro is slimmer and slicker. Weighing at 3.06 lbs (1.4kg) and with a thickness of 0.61″, avid techno-buffs will instantly notice the difference. It's as if the 13.3-inch ultrabook has gone a long way from its predecessor.
At its basic build, a clean brushed silver case protects the QHD IPS display when folded closed in laptop mode. Rubber linings around the front edges provide better traction once it's folded in tent mode. Finally, a double-hinged system allows its handlers to flip, rotate and fold the Lenovo Yoga 2 Pro to their heart's content.
After a public outcry on Lenovo's 'lack of resolution' and non-backlit keyboard, consumers and potential owners will be pleased to know that it has been answered. A 3200 x 1800 resolution maximizes productivity on the Windows 8.1 platform. Unfortunately, the large screen might have a double-edged effect on Yoga-loving professionals who still prefer working in Desktop mode.
Performance
Cinebench 11 scores have been surprisingly high. At 21.38 fps, its score is on the same plain as that of ultrabooks running with the latest NVIDIA GeForce GPUs. It could have been due to the Yoga 2 Pro's TurboBoost courtesy of its Intel Haswell processor. Nonetheless, it's a testament to its speed.
Ultrabooks and notebooks are often assessed based on price and performance. In this instance, the Lenovo Yoga 13 and the Lenovo Yoga 2 Pro are alike in terms of price point whereas the Yoga 2 Pro exceedingly outperforms the former.
Visually-speaking, the Lenovo Yoga 2 Pro boasts an IPS screen with a 3200 x 1800 resolution. That's far from the Yoga 13's 1600 x 900 pixel display. Audio isn't far behind either. Louder and richer audio is also evident when the two flexible ultrabooks are played side by side.
Connectivity
What the Yoga 2 Pro significantly lacks is the abundance of ports Lenovo used to take pride in. Only two USB ports, a micro-HDMI, an SD card slot and a combo microphone and headphone jack make up its wired options. Lenovo may have felt that LAN was no longer necessary.
Wireless connectivity is available through Wireless b/g/n and Bluetooth v4.0. A 720-p webcam allows video conferencing.
Lenovo Yoga 2 Pro Pros and Cons
At this time, it may seem that the Lenovo Yoga 2 Pro is an almost-perfect embodiment of the ideal ultrabook hybrid. And although this may be true for some, it will still boil down to one's preference.
Below is a list of why one should choose the Yoga 2 Pro and why not.
Pros
1. Lighter and Thinner. Compared to the Yoga 13, the Yoga 2 Pro's weight and thinness has improved far beyond expectations on it.
2. Improved Durability on 360-degree Flexibility. A two-hinge system allows stability and durability when flipping and folding this Yoga model. Whether it's on laptop, tent or stand mode, users will enjoy a more stable ultrabook hybrid.
3. Improved Keyboard. Not only is the Accu Type keyboard backlit, its sides also protrude slightly when the Lenovo Yoga 2 Pro is in tablet mode to lessen the keyboard's wear and tear. Some have mentioned that this only worked with the ThinkPad series of the Yoga 2 Pro. However, it seems that the IdeaPad models also sport this feature as well.
4. QHD IPS Display with a 3200 x 1800 resolution. A massive upgrade on the Yoga series is the very high resolution. This is, without a doubt, a ramp up on the Windows 8.1 experience.
5. Long Battery Life. Actual tests show increased battery life by 30 minutes to an hour compared to the Yoga 13's.
Cons
1. Smaller Trackpad. In comparison to the Yoga 13's trackpad, the Lenovo Yoga 2 Pro's is narrower by a centimeter. Lenovo could've kept the size given the abundant real estate on the wrist rest.
2. Difficult Screen Navigation when in Maximum Resolution. Unfortunately, the 13.3″ screen may not have been the best fit for such a large resolution. Users have found the icons difficult to press.
3. No LAN. Sure, a USB port can replace wired connectivity. Unfortunately, most routers still make use of LAN cables for wired connectivity.
Verdict
With the Lenovo Yoga 2 Pro's price point and performance, there's no question that it's the better choice- in comparison to the Yoga 13. Not only is it thinner, lighter and sturdier, the Yoga 2 Pro is also faster and has been proven to have a longer battery life.
Is it worth paying for if one is to upgrade from the Lenovo Yoga 13? This will still depend on the user's preference. Before making the purchase decision, Yoga 13 owners should consider the challenging screen navigation problem which poses a problem for intensive Desktop-mode users.