If the Lenovo Yoga was known for being a laptop with tablet functionality, the 2-in-1 Satellite Click 10 ultrabook is its opposite featuring a tablet with laptop capabilities.
Toshiba has once again done something out of the ordinary with the touch-screen Click 10.
Users will be able to enjoy twice the hard drive storage space of a typical tablet or even more compared to regular laptops.
[gss-content-box] Latest deals for the Click 10:
[/gss-content-box]
Toshiba Satellite Click 10 Overview
Build and Design
The Satellite Click 10 hybrid ultrabook is generally made of aluminum which may persuade consumers whose preferences are of the metallic kind.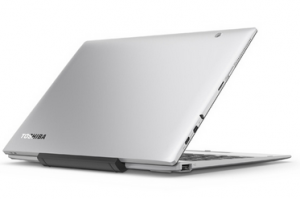 On the other hand, Toshiba's choice of having the Click 10 sport a nicely-textured, silver finish, and aluminum cover doesn't prevent it from looking sleek and sophisticated as expected.
The tablet alone weighs about 1.2 lbs and 2.16 lbs with the keyboard dock. The Click 10 only 0.9" thick together with the keyboard.
In order to detach the keyboard from a tablet, all you need is to push a little tablet down.
The Satellite Click 10 works fine as a stand-alone Windows tablet. However, to experience full laptop functionality, Toshiba sells it with the keyboard dock.
At a glance, the TruType LED backlit keyboard dock does look like the one designed for ultrabooks. What make it special though is its 2 USB v2.0 ports, 1 full-sized USB 2.0 port and memory card reader.
Performance and Graphics
The Satellite Click 10 2-in-1 ultrabook features a 10.1″ multi-touch IPS FHD display with a native resolution of 1920 x 1080.
The IPS screen provides very good side-off angle viewing experience.
Surprisingly, the Mobile Intel HD graphics did not dampen the expectation for the Click 10. In fact, new owners have attested to the surprisingly good video quality.
Connectivity
If there's one thing that makes the Toshiba Satellite Click 10 stand out among other Windows tablets, it's definitely for the keyboard dock which not only extremely easy to detach, but also the USB 2.0 ports it was built with.
Among the Satellite Click 10's many connectivity options are Wi-Fi Wireless networking (802.11a/g/n) and Bluetooth 4.1.
Pros and Cons of the Satellite Click 10
Once again, Toshiba has outdone itself in the creation of new consumer-focused 2-in-1 devices.
No doubt the Satellite Click10 easily rivals the Microsoft Surface Pro 3. The list below provides a summary of the pros and cons.
Pros
1. Keyboard Dock for Laptop Functionality. Users who prefer multi-form functionality will be happy to hear that the Tablet's dock looks as much a part of the Click 10 as if it were its own laptop.
2. Pretty Lightweight for the 10.1" Display. It would be an overrated statement to say that the Click 10 feels like a feather in one's arm. However, weighing 1.2 lbs and 2.16 lbs with the keyboard dock doesn't make it a bad travel partner either.
3. Connectivity Options. Toshiba's decision to include two USB v2.0 ports in the keyboard dock and one USB 2.0 port  in a tablet just blows the competition.
4. The powerful Intel Processor. Who wouldn't like to have the latest Intel Atom x5-Z8300 processor?
Cons
1. Relatively short battery life. Only 6.8 hours for tablet only and up to 6.58 hours for tablet and dock.
2. Not everyone is a big fan of the hinge design.
Summary
There's no denying that the Click's pros outweigh its cons. The below average battery life alone is a big disappointment for users who love traveling or bringing along with them their work. Toshiba's choice of bundling Windows 10 to the Click 10 is a win-win for Windows legacy apps lovers.
Toshiba Satellite Click 10 laptop specifications:
Processor: Intel Atom x5-Z8300 Processor
Operating system: Windows 10 Home
Memory: 2GB LPDDR3 1600 ( not user upgradeable)
Hard drive: up to 64GB solid state flash memory (eMMC)
Display: 10.1″ Detachable Full HD LED IPS Backlit Touchscreen, 1920×1080
Optical drive: (sold separately) Toshiba USB Portable DVD SuperMulti Drive
Weight: 1.2 lbs (0.54 kg) (tablet only)
Tablet + keyboard: 2.16 lbs (0.97 kg)
Battery life: up to 11 hours