There are many users who want the ease and portability of a tablet, but still require the greater power and capabilities of a laptop. For these users, convertibles or hybrids are often the best option, as they combine the best traits of both types of portable computer.
[gss-content-box]   Save $400 plus FREE shipping on the new VAIO Z Flip VJZ13BX0211B Signature Edition Laptop
[/gss-content-box]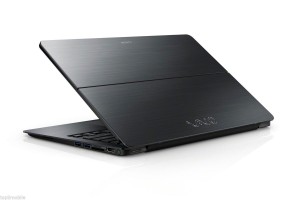 Specifications:
Display: 13.3 in WQHD LED touchscreen (2560 x 1440), 10-finger multi-touch support
Processor: Intel Core i7-6567U 3.30 GHz with Turbo Boost Technology up to 3.60 GHz
Memory: 8GB LPDDR3 1866 MHz
Hard drive size: 256GB SSD
Operating system: Windows 10 Pro, 64-bit
Video: Intel Iris Graphics 550 with shared graphics memory
Dimensions: 12.76 x 8.48 x 0.66 in (324.10 x 215.39 x 16.76 mm)
Weight: 2.94 lbs
Battery life: up to 11 hours
VAIO's latest effort at designing a hybrid, the VAIO Z Canvas, is an excellent newcomer to the hybrid market. It definitely beats out the designs of many other companies, and here's why.
Performance
Obviously, any tablet or hybrid is not going to be meant as a gaming machine. However, the VAIO Z Flip does have a Intel Iris Graphics 550. It certainly won't run the latest games at their highest settings, but they'll be playable for the gamer on the go.
Where the VAIO Z Flip Signature Edition laptop really shines is in use by digital artists. With a 13.3-inch display that can go as high as 2560 x 1440 px, artists have plenty of space to work on the finest details. The processing speed is more than enough to run the best art programs like Adobe Photoshop, and even better, the built-in tablet functions are extremely accurate. While all of these details accommodate anyone who wants a visually excellent portable computer, they are especially good news for digital artists.
It is true that the VAIO Z Flip is not the fastest hybrid on the market. However, it performs well enough that most users won't really notice if it is a little bit slower than other PCs.
Design
Obviously, design is an important aspect of any multi-mode computer. The incredibly easy to carry around and positively hides in an airplane seatback pouch VAIO Z Flip is surprisingly  thin and light. It looks and feels good.
The WQHD plus 2560 x 1440 touchscreen is bright, vivid and displays 95% coverage of the Adobe RGB color spectrum. The accurate color allows you to optimize tasks and apply an absolute finish to your project.
The hinge is well-placed to allow an easy transition between the computer's two modes.
The kickstand's spring-loaded hinge is spectacular: it opens with a single finger, yet puts up enough capacity to stay still when you press down with your finger or the included stylus. That stylus has 1,024 levels of pressure sensitivity. The keyboard uses radio frequency communication so you can detach it and use it to navigate Windows with one hand while you draw with the other.
The designers of the VAIO Z Flip have also found space for quite a few ports.  The VAIO Z Flip sports one, along with multiple USB ports and an HDMI-out port, just to be sure to fill all their users' needs.
If you're concerned about the style of your computer, the VAIO Z excels there as well. The solid aluminum case and  6-sided tempered glass will have you working fashionably.
[auction-nudge tool="listings"]