It's easy to understand why everyone wants a tablet these days. Besides being cheaper than laptops with many of the same functions, they're also even more portable and really, just plain fun. Even if they are the more affordable computing option, they're still a significant investment, though, so it's important to be sure you're getting the right one. How should you decide?
There are 6 major factors that you should consider before purchasing a tablet:
1. Usage: Basically, what do you need from the tablet? This is the most important question to ask yourself before purchasing any device.
Apple iPad Air 9.7″ Retina Display – the most popular tablet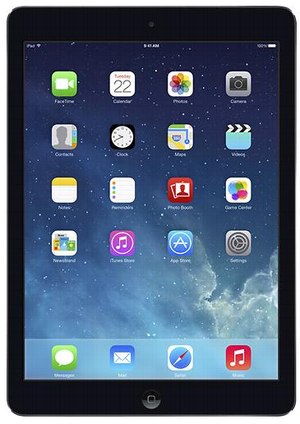 Will you be working from it? Reading on it? Using it to store and view media? There are tablets suited to each of these needs, with varying display types and storage sizes.
For example, if you plan on using it as a media device, you'll want lots of memory so that there's room for all of your music and videos. Decide which traits are most important to you and focus on those.
2. Interface: Tablets have an operating system too. Apple's iPads  will look and feel different to use than an Android or a Windows tablet.
This is simply a matter of personal preference, but it is still important to consider. You don't want a machine that you aren't comfortable with. Most in-store displays will let you get a good feeling for the interface of a tablet before you make a purchase.
3. Connectivity: Are you going to mostly be using your tablet in places with internet – for example, taking projects between home and the office? Then you'll probably be fine with a wi-fi only model. However, if you want to make sure you can connect from anywhere, you should choose a tablet that can be connected to your cellular service plan and use that network.
Toshiba Encore Tablet with Windows OS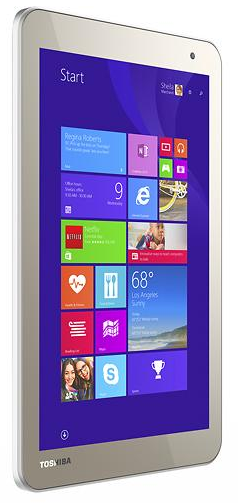 4. Downfalls: Every tablet has its flaws, but something that is a big problem for one user could be minor for another.
Just as you should know what features are most important to you, you should know which features you don't mind not having.
This can help cut down on price if you're shopping on a budget. It can also help when reading the 'cons' sections of tablet reviews. If you know that the feature listed as a con is not important to you, you can disregard that point.
5. Portability: Any tablet is going to be smaller and more portable than a laptop, but there's still plenty of variety within machines categorized as tablets.
As always, it's a choice between screen size, power, and often battery life vs weight and dimensions.
Again, this is simply a matter of what is most important to you. If you know you're going to be taking the tablet everywhere and aren't too worried about the display, you should go for a smaller model.
6. Software: Along with a different OS, different tablets are going to have different apps available for them.
The Apple app store is well-known for its broad selection, but it can be easier to find independent apps for Android phones.
Right now, Windows machines are trailing in this regard, as some of their tablets will not let you install any third party apps, but they don't yet have the huge selection of the Apple store to make up for this lack.
However, if you only need the basics in terms of apps – an e-book reader, a media player, etc. – then this shouldn't be a problem.
The multimode Lenovo Yoga Tablet 3 10
Even before you lay out these factors, you should set a budget for yourself.
You should probably expect to pay at least $150 for a tablet that is moderately new (rather than last year's model or a refurbished model, though these are also options if you are on a very tight budget).
You may wish that tablets were even cheaper, but it is best to be realistic in your expectations – unless you stumble on a very dramatic sale, a good tablet isn't going to go below a certain price.
You also need to set an upper limit. Tablets may be cheaper than laptops or desktops, but models with all the bells and whistles can still get very expensive.
By combining your budget with the factors above, you can look to prioritize the features that are most important to you and cut back on features that won't help you as much to get the best tablet for you at the best price. Purchasing a tablet is an important and very individual decision, and you should make sure to consider carefully in order to get a machine that you'll really be happy using.