The Toshiba Portege Z30 is one of those laptops that will last for years. To break it down further, it's a durable, light-weight ultrabook for keeps. [gss-content-box]Save with latest discounts & coupons on the Portege Z30:
Compare all Z30 models >
[/gss-content-box]
Toshiba Portege Z30 Overview: The Long-Lasting Ultrabook
Lighter, Stronger, Better!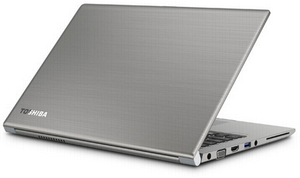 Who says Toshiba isn't catching up? Taking a better look at the Portege Z30's specifications reveal that it's lighter than Lenovo's new X1 Carbon. The Z30 is at 2.6 lbs (1.18 kg) while the latter is at 1.27 kg- quite a surprise given the Portege Z30's magnesium alloy-based case.
And if durability is in question, the Toshiba Portege Z30 won't let you down either. Its chassis is made of what Toshiba calls the "Tough Body" design mainly comprised of a honeycomb internal structure and a premium magnesium alloy-based external case.
Mobility at its Finest
A decade ago, laptop users had to carry their computers with both hands. Nowadays, a lot of these people have begun holding their ultrabooks single-handed. This is because of the considerable reduction in size and weight.
With the Sony VAIO Pro Touch (2.34 lbs) and Samsung Ativ Book 9 (2.56 lbs) in front of the line, the Toshiba Portege Z30 comes in a close third. In terms of thickness, this Portege model belongs in the top 5, alongside the Lenovo ThinkPad Helix, Acer Aspire S7 and Dell XPS 13. At 0.63-inches thick, it is slightly slimmer than Lenovo's IdeaPad Yoga 13.
 Extremely Low Energy Consumption
A rather favorable discovery from this ultrabook's summary was Toshiba's decision to stick with an Intel Haswell i7-4500U, an older processor than the Core i7-4600U. This was because the former consumed less power than the newer i7 version despite demonstrating an almost similar performance.
Faster Performance
Perhaps it's become a staple for ultrabooks to sport smaller yet faster memories and storage drives. The Toshiba Portege Z30 also has a solid state drive for faster boot-up, loading, file access times. Unfortunately, for  non-customized models, memory is non-user replaceable which means RAM upgrades are virtually impossible.
Complete Connectivity
It's a rare find to catch all three- RGB, HDMI and LAN port- in a ultrabook. The Portege Z30 has it all. And it even has 3 USB 3.0 ports. It's a marvel how Toshiba was able to cramp it all in a single device and still maintain an operable temperature through its AirFlow II technology. It's the perfect companion for Powerpoint presenters, multi-country adventurers and international businessmen.
Pros and Cons in Choosing the Portege Z30
The Toshiba Portege Z30 is the real compact deal.  It's worth checking out simply because it's more durable and more mobile than most of its counterparts. Here's a summary of what users are going to enjoy when buying the Portege Z30.
PROS
1. Spill-Resistant, Backlit Keyboard. Except for the Lenovo Flex, almost all ultrabooks in the market have backlit keyboards. The Portege Z30, however, sets itself apart for its intensely-tested spill-resistant one.
2. Durable and Long-lasting. It's a known fact that Toshiba owners often replace their devices later than others. This is because these computing devices are tested in terms of toughness, shock-absorption and lifespan. Toshiba notebooks and ultrabooks have always been built to last.
3. Long Battery Life. Just by looking at its battery, a 52Wh Li-Ion 4-cell, there's no doubt that this is no ordinary ultrabook. If the Portege Z30 stands true to its 12.08 hour rating, then it's beyond Lenovo ThinkPad Helix's 10 hours, the top contender in 2014's touchscreen ultrabook lineup. Also, the Portege Z30 practically has twice as much juice as Toshiba's Kirabook 13.
4. Studio-Quality Speakers. The speakers are beyond one's expectation for an ultrabook this thin. DTS Studio Sound amps it up even more by providing intelligent levelling and maximum surround sound immersion.
CONS
1. Non-user Replaceable Parts in Non-Customizable Models. Because of its compactness, Toshiba opted for the Z30's memory and battery to be non-replaceable. This could pose a problem for future issues and planned upgrades.
2. Unappealing Screen Resolution. It may be a good thing to have a 1366 x 768 on a 13.3″ laptop. Some people, however, may find the display too low especially when most ultrabooks are now sporting 1600 x 900 screens, at the least.
Verdict
Whether you're a businessman whose lifestyle requires flying out of the country often or a mobile professional blogger who enjoys travelling or life's simple pleasures, the Toshiba Portege Z30 will be a trustworthy companion. Built to withstand long hours and rigorous use, this ultrabook is the perfect example of mobility, versatility and durability. If there's any downside to the Portege Z30, it's probably its limited upgradability.
Quick Specifications (customizable models):
Processor: up to 4th generation Intel Core i7-5500U
Operating system: up to Windows 10 Pro
Up to 16GB DDR3L memory
Up to 512GB solid state drive
Mobile Intel HD graphics
Up to 13.3″(1920×1080) HD TFT LED backlit display
Intel Dual-Band Wireless-N 7260 2×2 AC + Bluetooth 4.0
LED Backlit Raised Tile Keyboard
Battery life up to 12 hours
Weight 2.6 lbs
Price starts from $849 >