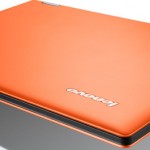 FREE shipping on the hybrid laptop Lenovo Yoga 3 Pro – 80HE010JUS – Clementine Orange
CLICK TO SEE DEAL >
Yoga 3 Pro – 80HE010JUS specifications:
Processor – Intel Core M-5Y71 Processor (1.20GHz 1600MHz 4MB)
Display – 13.3″ QHD+ LED Glossy Multi-touch (3200×1800)
Operating System – Windows 10 Home 64
Memory – 8.0GB PC3-12800 DDR3L SDRAM 1600 MHz
Graphics Card – Intel HD Graphics 4400
Hard Drive – 512GB SSD
Weight – 3.1 lbs
Battery life – up to 9 hours
See all Yoga 3 Pro models >
A Really Magnificent Yoga 3 Pro – 80HE010JUS
If you wanted portability, functionality, power, and most importantly, reliability, the Yoga 3 Pro delivers on all, and more.
It's lightweight, powerful, fast, flexible, and replaces multiple devices. The Lenovo Yoga 3 Pro – 80HE010JUS   is well built, hinge is not at all flimsy, the screen is better than an Apple iPad with Retina display. This hybrid laptop is quick and easy to use.
Concerning the compatibility with other programs, the convertible Yoga 3 Pro is no doubt a winner all the way around with Windows 10 loaded and ready to go.
It's extremely fast, less than 10 seconds to boot up.  The fantastic multi-touch screen is to die for, and the Wi-Fi is just okay. Video reproduction and colors are superb.
Pros:
– An innovative design
– Portability and reliability
– Long reported battery life
– Decent price with SSD
– High screen resolution
Cons:
– Micro HDMI port
– Windows 10 take a little start up time to learn
– The screen switching between apps and programs with an inadvertent swipe of the touch pad. Try this to resolve: use the most recent bios and energy manager, and have the energy manger for "Balanced" set to default.
Good for: students, business professionals, personal use.
The Yoga 3 Pro is a 2-in-1 laptop would have been hands down the best on market for features and price. It's fun and is great at work.
Related products:
[auction-nudge tool="listings"]