Obviously, Lenovo is already doing quite well in the department of Hybrids. Their Yoga line is one of the most innovative and well-known names for hybrids on the market right now.
[gss-content-box] This week's ecoupons & deals for the Lenovo Yoga 710 15″ Black:
[/gss-content-box]
However, they've decided to provide even more options for end users by providing a machine that is somewhere between their regular hybrids and a full-fledged laptop.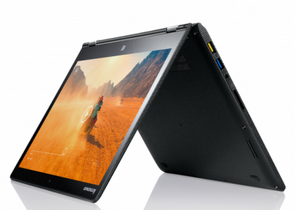 This new entry into the market is called the Lenovo Yoga 710. At first glance, or even first use, you might mistake it for a regular 15-inch laptop, but you'd be wrong.
It offers more flexibility than a laptop with a 360 degree hinge. This is enough to go into full tablet mode like the other Yoga models and other hybrids, plus it does allow a "stand mode" that looks somewhat like an easel and is great for focusing on the display at times when you don't need to use the keyboard, like watching movies or making video calls.
Lenovo has released a "dual-mode" laptop before as part of the Flex line, but the overall design was so similar to the Yoga machines that most people chose cheaper options or paid a little more and got the actual Yoga.
The Lenovo Yoga 710 presents a sleek form just 0.71 inch thick. The stylish aluminum case houses a stunning 15 inch 3840 x 2160 resolution FHD touchscreen. If looks are important to you, you won't be disappointed by the Yoga 710.
It also offers plenty of connectivity options.
There are 2 USB 3.0 ports, an SD card slot, and a micro HDMI port, along with, of course, an Audio Combo jack. It doesn't provide an optical drive, but this won't be an obstacle for most users that are looking for a machine more towards the hybrid end.
Many videos and games can now be accessed directly through the internet, and of course if you do find an optical drive absolutely necessary, you can purchase one that plugs into the USB ports.
As far as controlling the machine, there are three separate interfaces, all carefully designed; the keyboard, the touchscreen, and the touch pad. The keyboard is comfortable to use and fairly large, with a full-sized number pad. You can even change the brightness of the backlighting.
The touchscreen is responsive and works very well with Windows 10. It's probably one of the chief reasons to get this dual-mode laptop rather than a regular laptop, along with price. The touchscreen option can make many operations easier with newer software.
The touchpad is also very responsive and offers multi-finger gestures to easily change your view and move around the screen. Unlike some touch pads, it's fairly large, making it much easier to be more precise with these gestures. It doesn't have discrete buttons, which can be a difficulty for some users, but it doesn't pose much of a problem.
You can definitely plan to take the Lenovo Yoga 710 on the go with 9 hours of battery life. You can also rely on it to stand up to most tasks with 7th generation Core i7 Intel processors, 256GB SSD storage, and, depending on the options you choose, potentially 16GB of Ram. You can also chose to add a Nvidia graphics card like the GeForce GT 940MX.
The Lenovo Yoga 710 provides a nice compromise between size and flexibility. So far, Lenovo only offers full hybrids up to 15 inches large. The Yoga 710 gives you extra screen space without totally sacrificing the ability to use the machine in different modes.
It's capable of standing up to any standard computing tasks, either as a home or work computer, and its flashy appearance makes it look impressive without you having to pay extra. It's a solid choice for those who are considering a hybrid but still want a larger screen.
Lenovo Yoga 710 15″ specifications:
Processor: 7th Generation Intel Core i7
Operating System: up to Windows 10 Pro
Display: up to 15.6″ UHD IPS LED Multitouch (3840×2160) with integrated camera
Memory: up to 16GB
Graphics Card: NVIDIA GeForce 940MX 2GB
Hard Drive: up to 256GB SSD
Weight 4.19 lbs
Battery life up to 8 hours
Price starts from $1199 >