The Lenovo IdeaCentre Flex 20 desktop is the petite version of its 27-inch brother, the Lenovo Horizon. However, unlike its bigger counterpart, this all-in-one tries to get the best of both worlds. It's a light, compact table PC that when laid flat on a surface is taken over by the Aura interface for multi-person usage.
Click to save on the Lenovo IdeaCentre Flex 20 Desktop AIO >
Lenovo Flex 20 Desktop: Multi-User Interactivity for the Entire Family

The multinational technology group continues to be on top of the game when it comes to all-in-ones, providing consumers high-end to budget-friendly desktops.
So once again, Lenovo presents its avid users a new tabletop PC that's easier to carry from one place to another.
Build and Design
With an HD screen smaller than the IdeaCentre Horizon's 27-inches, the Lenovo Flex 20 desktop sheds most of its burdensome weight with a build starting at 7.7 lbs. (3.5 kg). In comparison to Sony VAIO Tap 20's and HP Rove 20's 12 lbs. weight, carting the Flex 20 can prove more effortless being 4 lbs. lighter.
As AIO desktops are known for their compactness and portability, the 19.5-inch multi-touch display takes up the entire frameless panel. Casing it is a smooth aluminum surface with a sturdy hinge that's capable of propping the Flex 20 straight up or at angles between 15 to 70 degrees. Pushing back the nifty hinge allows users to utilize this desktop lying flat.
Graphics and Performance
Perhaps one of the Lenovo Flex 20 desktop's few downfalls is its 1600 x 900 resolution. This in no way compares to the Yoga 2 Pro's 3200 x 1800 native resolutions; and that's all packed in a 13″ screen. With a 20-inch IPS display, it simply doesn't make sense that users would settle for anything less than a 1920 x 1080p.
Unlike its predecessors, this dual-mode desktop packs some serious hardware muscle worthy of touch-oriented multimedia-viewing and photo-editing applications. Up to a fourth generation Core i7 processor, 8 GB of RAM and a hybrid hard drive with 8GB SSD cache allows said Lenovo AIO seamless transition from its Windows 8 GUI to the specially built Aura Interface- a haven for multi-person interactive gaming.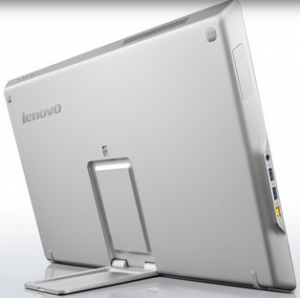 The Lenovo Flex 20 desktop's graphics card has been limited to HD 4400. It certainly isn't a hard-core gamer's dream computer.
This is no surprise as Lenovo is veering unto a broader demographic, which includes friends and families who want to bond and spend some fun quality time with each other.
Hence, the compatibility with Lenovo Horizon's original gaming accessories: e-dice, strikers and joysticks.
Connectivity
Putting wired connections at a minimum, the Lenovo Flex 20 desktop comes with 2 USB 3.0 ports and a wireless mouse and keyboard. An integrated battery allows users to utilize this Flex model up to 3 hours without the need to recharge.
Among its wireless connectivity options are an 802.11 b/g/n Wi-Fi and Bluetooth v4.0. Gaming accessories, to maximize multi-player experiences, are sold separately.
Lenovo Flex 20 Desktop Pros and Cons
Among its new multimode PCs, the Lenovo Flex 20 becomes yet another addition to this leading technology firm's noteworthy accomplishments. Aside from its competitive price, the lighter weight and new Lenovo interface simply shows how much time, thinking and effort Lenovo pours into each device.
Below are just some of the things consumers who want to buy the Lenovo Flex 20 desktop should take note of.
Pros
1. 3 Hours of Untethered Usage. With the Flex 20's integrated battery, users can enjoy this all-in-one table PC for 3 hours without having to worry for a recharge
2. Aura Interface. On Stand Mode, the Lenovo Flex 20 desktop appears with a Windows 8 operating system. On Tablet Mode, this same AIO turns into a multi-user interface panel where two or more users can access its content with a distinct appearance and feel.
3. A Social Platform Fit for the Family. Lenovo emphasizes on how different people can interact and enjoy the Flex 20 with multiplayer games and applications optimized for this device. Enjoy games and other fun interactive apps from Lenovo's AppShop.
4. Dual-Mode Desktop. This Flex is no ordinary all-in-one. Users may enjoy lounging around using it as a giant tablet or propping it up like a Windows 8 machine.
5. 10-point Simultaneous Touch Interactivity. One device for the entire family just sounds about right with up to 4 users playing Lenovo's Air Hockey.
Cons
1. Disappointing Screen Resolution. The drawback of this lighter and smaller version of the IdeaCentre Horizon is the fact that its IPS display was limited to a 1600 x 900 resolution.
2. Uncomfortable Mouse. If this is Lenovo's way of standing out in terms of design, the odd-looking mouse wasn't as pleasing to hold as it was appealing to look at.
Verdict
The Lenovo IdeaCentre Flex 20 desktop is perfect for the home and family environment. Whether it's used for browsing the internet, working on recipes and documents, playing multiplayer games or watching a movie on the bed or sofa, the Flex 20 is a multi-platform, multi-user touch interactive device for friends and family to enjoy.
Quick specifications:
4th Generation Intel Core i3-4010U Processor( 1.70GHz 1600MHz 3MB)
Operating System: Windows 8.1 64
Intel HD Graphics 4400
Memory: 4.0GB PC3-12800 DDR3 SDRAM 1600 MHz
Display: 19.5″ HD+ LED Backlight (Multi Touch) 1600X900
2.4G Keyboard
Pointing Device:Mini Optical Wheel Mouse (Wireless kit)
Hard Drive: 500GB 5400 RPM
Weight 7.7 lbs
Battery life up to 3 hours
Dimensions 20.1 x 12.3 x 0.8"