The Lenovo Erazer X510 desktop marks a shift from mainstream productivity-focused notebooks to flexible transforming portables, but will it fare well with gamers?
As one of the newer additions to the Lenovo family, the Erazer X510 might come across as a little too audacious for users who are accustomed to Lenovo's more functional builds.
[gss-content-box] Weekly deals & ecoupons for the Erazer X510:
[/gss-content-box]
Build and Design
The new Lenovo Erazer X510 is up for massive criticisms starting with its new out-of-this-world case.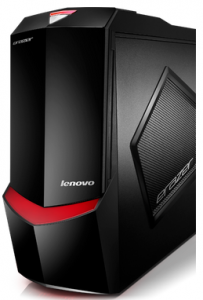 Leave it to the Erazer X510 to have its own Facebook community page.
Aside from being deemed an unused Prometheus design, this Lenovo desktop has been branded Optimus Prime's head and a Star Wars stormtrooper's helmet. Whether these are compliments or not is up to the consumer's preference.
Not to be left out on jaw-dropping appearances from Dell's famous gaming rigs, Lenovo did take some pointers from Alienware.
For instance, the LED-ridden Lenovo Erazer X510 stands out with an explosive blue radiating from its chassis. A blown-up plastic case structured with geometric lines dominates its overall form.
While the outside may look racecar sleek (especially with its "start" power button), the internals are another story.
However, Lenovo needs to step-it-up in terms of cable management.
Performance and Graphics
As TechRadar's Alex Roth mentions, the Lenovo Erazer X510 had surprisingly promising gaming performance.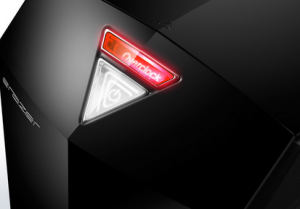 Playing Battlefield 3 with it was almost effortless, even as it was challenged with intense framerates while controlling an F/A-18 Fighter Jet.
With NVIDIA's GeForce GTX 760, the Lenovo Erazer X510 is capable of running with up to 3 monitors. With the Intel Core i7-4770K, it can control up to 6.
Using a 4rd generation Intel Core i7 processor, this gaming rig allows overclocking with a press of a button.
Connectivity
Don't be confused by the two USB ports at the front of the Lenovo Erazer X510's chassis; the real connectivity is in the back, starting with 6 more USB 2.0 ports and 2 USB 3.0 SuperSpeed ports for whatever purpose they're needed for.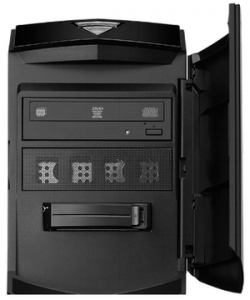 Storage won't be an issue either.
Lenovo also covered the inside with the front hot-swap bay for external hard drives for expansion necessities.
Other connectivity options include an Ethernet LAN, HDMI, VGA, line-out, 6 audio jacks, and a 7-in-1 card reader.
 This is the best 'stock' gaming PC I've ever encountered. Loaded with latest features and power, and easily customized if I decide to upgrade…– Awesome PC
Lenovo Erazer X510 Pros and Cons
There's no denying that Lenovo's offering of a dedicated gaming rig won't hurt any consumer. Coming from the manufacturer of a number of timeless flagship devices, the question lies whether the Erazer X510 will go down in history as a monumental gaming desktop or a fadeout.
Below is a summary of this Lenovo gaming desktop's pros and cons.
Pros
 icon-arrow-circle-up OneKey Overclocking Capability. Users won't need to tinker with their BIOS to get things done. A simple press of the button (above "start") and the Lenovo Erazer X510 will get things done.
 icon-arrow-circle-up Expandability and Accessibility. It's pretty obvious that Michael Littler of Lenovo wasn't kidding when he said "a lot of expandability". The Lenovo Erazer X510 has a spare bay for 5.25″ optical drive and a hot-swappable drive on the outside.
 icon-arrow-circle-up  The Reasonable Price. The Lenovo's X510 gaming desktop price starts from only $1099.
Cons
 icon-arrow-circle-down Too Extravagant Gaming Appearance. Lenovo's intention of perfecting the stand-out look might have been taken a little too far with the X510.
Whether the explosive lighting and blown-up plastic is too much (or perfectly fine) will depend on the user's preference.
Verdict
While Lenovo might need to further research on what gamers actually want, they're on the right track with the Lenovo Erazer X510. Perks such as OneKey Overclocking and incredible expandability are just some of the gaming benefits this high-powered rig offers.
As for this new extraterrestrial look, it will all boil down to the individual gamer's fancy.
Where to purchase the Erazer X510?
Click here to buy from the Lenovo official website
The keyboard, mouse and monitor are sold separately.
Quick specifications:
Processor: Intel Core i7-4770K Processor( 3.50GHz 1600MHz 8MB)
Hard Disk Drive: 2TB storage – (7200rpm) + 8GB SSHD
Operating system: Windows 8.1
Optical Drive: DVD Recordable
Memory: up to 16GB DDR3- 1600Mhz (Support Dual Channel)
Graphics: up to NVIDIA GeForce GTX 760 2GB
Weight 28 lbs
Warranty: 1 year