Innovations in hardware design have allowed Dell to create the perfect mix of power and portability in the Alienware 18 laptop. It shouldn't be surprising since computer gaming has been evolving since its inception, and designers have been spending countless hours in developing the portable gaming computer.
The Alienware 18 will give the gamer everything they desire and more, here's a quick rundown:
The Good
Performance is superb, since It comes with a 4th generation Intel Core i7 processor that runs at 3.5 GHz.
Need more? With Turbo Boost technology you can overclock the processor up to 4.4 GHz. With that kind of power, along with up to 32GB of ram that runs at speeds of up to 1600mhz, you will be able to run and play anything.
It doesn't stop there either, software will load lightning fast (7200rpm) with its SDD performance due to its hybrid hard drive, which is also designed to act as a RAID, BOOT or even caching platform.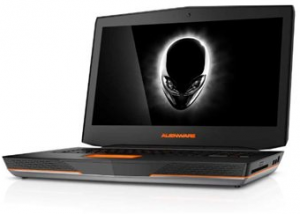 For Video you have the option of having dual NVidia GTX 880Ms, while that in itself is something to marvel at, its only the beginning.
The 18.4″ WLED TruLife display (1920×1080) is full high definition, ensuring a great picture quality no matter what you decide to play.
The laptop also doubles as a media center with the option to hook it up to any HDTV with an HDMI output, but it doesn't stop there you can also connect to 3D TV's with the option of forgoing irritating wires.
Customization is another thing that's great about the Alienware 18. First off there are the micro keys, that are programmable depending on the application or game.
The next thing that's fun to play with is the lighting controls, giving you the option to highlight areas of your keyboard with specific colors.
Of course, it comes with the standard power management and touchpad controls as well.
The Bad
Battery Life is a little on the downside, with around two hours on default max settings. It shouldn't be surprising though since the speed and agility of this machine requires immense power to maintain.
Portability isn't its strong point either. Considering that the Alienware 18 has a full size keyboard and a 18.4 inch display it's almost a given that it'll be a little heavier than the common laptop.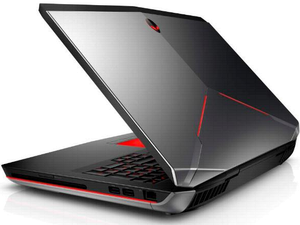 Bottom line
While other heavy duty gaming laptops are comparable in design you'll find that the 18 is nearly on the top for specifications.
Another thing you don't usually see on gaming laptops is its ability to double as a home media center and don't forget about the full sized keyboard. All in all its not much different if you just want to run your games that is.
Playing games at max settings is a whole different ball game, an experience the Alienware 18 does well.
If you need a computer that you can bring anywhere, while still enjoy playing games with high end graphics or need a machine that's portable yet acts like a desktop then this is the laptop for you.While it may be a little pricey, the laptop is nonetheless worth every penny as it provides the user with high end gaming fun.