The Lenovo  Y50 Touch is a new laptop for the true gamer who still wants or needs portability. It's a beautiful and powerful with the reasonable price tag.
[gss-content-box]Weekly deals for the Lenovo Y50-70 Touch (no coupon code required):
See all Y50-70 Touch models >
[/gss-content-box]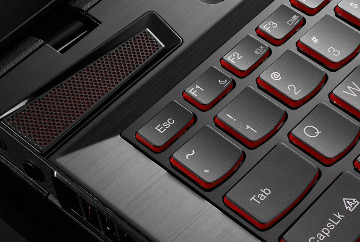 Lenovo Y50 Touch: The Gaming Laptop Option
The Lenovo Y50 Touch is this year's version of the Y510p. With a sleek black case that slims down the profile but also loses the Ultrabay, there are certainly noticeable differences between the two.
The Y50 also offers a multitouch display to work with the new operating system of Windows 8.1, and of course a stronger graphics card.
Pros:
It does offer some very impressive storage options – a terabyte on a hybrid SSHD, with a 8GB NAND flash or 512 SSD storage, depending on the options you select.
The keyboard has LED lights and a red backing that adds some flair to the otherwise black casing.
Slightly concave keys give a firmer finger feel and enable more precision when typing. Overall, it is a nice-looking machine which is something that cannot be said about all gaming computers.
Always important on a laptop, but especially important on a gaming machine like the Lenovo Y50 Touch is the cool-rest for a user's hands.
The area below the keyboard on some laptops can get hot, especially when they are running programs with high power requirements.
The Y50 has successfully incorporated a palm rest of sufficient size that stays cool even when running those power-sucking games and is situated properly for ease of use.
The Lenovo Y-series machines is a gamer's dream come true. Not only can it features the latest robust 4th generation Intel Core i7 processor , but it also equipped with 16GB memory to make the machine more capable. Use it  to  keep large game files without fear of losing space.
A full HD display shows games and video in high definition so that none of the subtleties are lost. Users can watch movies on the Y50 Touch and expect them to look their very best. An HD webcam complements the FHD display and allows users to send crystal-clear images of themselves to the people they are video chatting with as well.
Cons:
Light, the Y50 Touch is not. It weighs in at a respectable 5.7 pounds which is plenty small enough for portability but might be a little hefty for taking to class every day. Students, especially, who are looking for a multipurpose machine for gaming and schoolwork might want to consider if they want to lug seven pounds around on a daily basis.
The battery life in the Y50 is not the best, clocking in at just 4 hours, but that's not unusual for a gaming laptop. In most cases, you'll be plugged in while using it, anyway.
Conclusion
Overall, the Lenovo Y50 Touch is a solid gaming machine in a relatively compact frame. It features an extremely useful touchscreen and is powerful enough for the gaming segment of the market while remaining nice to look at. The red edges to the keyboard keys are an especially nice touch. At 15.6 inches and just under six pounds it is also small enough to do double duty as a (slightly oversize) school or work laptop as well.
Quick specifications:
Processor: 4th Gen Intel Core i7
Operating system: Windows 10
Graphics: NVIDIA GTX 860M
Memory: 16GB DDR3L memory
Hard Drive: up to 512GB SSD
Up to 5 hours battery life
Display: 15.6″ FHD LED Backlid multitouch, resolution (1920 x 1080)
Weight 5.7 lbs