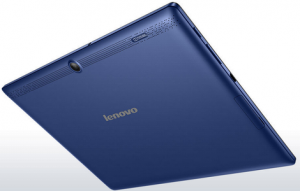 $189   $249   at Lenovo
CLICK TO SEE DEAL >
Save $60 plus FREE shipping on the 10″ Lenovo Tab 2 A10 – ZA000009US – Midnight Blue
Entertainment Android tablet Lenovo Tab 2 A10 – ZA000009US  – specifications:
Processor – MT8165 QC Processor (1.70GHz 1MB)
Operating System – ANDROID 4.4
Memory – 2.0GB PC3-14900R DDR3 1866 MHz
Hard Drive – 32GB eMMC
Display –  10.1″ FHD LCD IPS  (1280×800)
Battery life – up to 10 hours
Weight  – 1.1 lbs
Lenovo Tab 2 A10: There's no Competition at This Price
This tablet is amazing, the specifications and performance are insane. For this price there's really no other options for a 10 inch full HD tablet.
Clear and crisp, vibrant video and amazing audio. Listen to everything from a baseball play by play broadcast to a movie on Netflix. It's going to take you a bit of time to learn all of the audio options. It's quite snappy in it's performance as well.
The Con: No flash on camera.
The 10″ Lenovo TAB 2 A10 is an excellent tablet for general use. The built in stand is a plus as well as the included Kingsoft office and Kindle.
Customers Who Viewed the Lenovo Tab 2 A10 Also Viewed:
[auction-nudge tool="listings"]