Rather than being the notebook that caters to different needs, the Lifebook E754 is designed in a way that business users will be able to fully harness Fujitsu's computing powers on-the-go.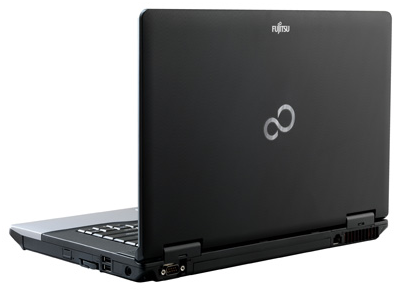 Fujitsu may not be in the big leagues yet in USA, but their aim to provide users with a reliable, well-built system along with ingenuity and flexibility may just be the catalyst that catapults them to the top.
According to Paul Moore, Fujitsu America's VP of PC Product Marketing and Management, the Lifebook family aims to deliver the latest technology in sturdy and versatile desktop replacements.
Build and Design
Sticking to tradition may not be a bad thing. With hectic schedules, business professionals would certainly prefer something they're already accustomed to.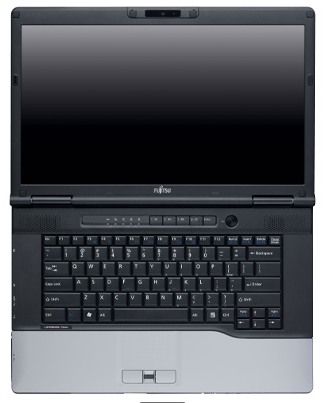 What Fujitsu lacks in aesthetics is compensated by reliability and an additional modular bay for a second battery or even a Blu-Ray disk drive.
Fixed models of the Lifebook E754 will have a dual-layer multi-format DVD writer situated on said drive bay.
With the optical drive, the Fujitsu Lifebook E754 weighs at about 4.49 lbs. That's not bad for a 15.6″ desktop replacement that's built with a plethora of ports to maximize office productivity.
Staying true to its aim, the Fujitsu Lifebook E754 is one of the few laptops running on the latest high end processors (up to a Haswell Intel Core i7-4610M vPro ) while sporting the ancient yet irreplaceable external video port.
Performance and Graphics
The Lifebook E754 runs with a more-than-generous processing power, yet there's not much to say with regard to its graphics options.
An Intel HD Graphics 4600 is all there is to choose from. Compared to the Lifebook S762, which could run with the NVIDIA GeForce GT640M, the manufacturers of the E752 probably thought of it as a hindrance to a businessperson's efficiency.
As a desktop replacement, this Lifebook model is rated to last up to 9 hours and 40 minutes. With an additional high-cap standard battery in the modular bay, Fujitsu claims operations lasting up to 15 hours and 30 minutes.
Connectivity
Visitors of Fujitsu's website might somehow get confused when all the wireless connectivity choices have the word "optional" on them.
Rest assured that the Lifebook E754 comes with the most basic amenities, from the full-sized Ethernet LAN to the 802.11 b, g, n Intel Centrino Wireless N-7260.
To further broaden this laptop's wireless reach, the E754 may also come embedded with 2 UMTS/LTE antennas (with a sim card slot) for 3G/4G capabilities. That and a Bluetooth V4.0 wraps up this Lifebook's possible wireless connections.
Port-wise, users will be happy to know that the Fujitsu Lifebook E754 has a plethora of ports. It has 3 USB 3.0 (one is an eSATA & USB Combo) and 1 USB 2.0 ports.
Fujitsu Lifebook E754 Pros and Cons
The  Lifebook E754 was designed with aspects of portability, versatility and mobility in mind. Fujitsu's strategy was to focus on business professionals as their primary customers.
However, this doesn't necessarily mean that it's not the right choice for others. To sum up the pros and cons of the Lifebook E754, here's a list of them.
Pros
1. Modular Bay: Whether it's for the purpose of extending the life of the battery or accessing files in a hard drive, DVD or Blu-Ray disc, the modular bay allows E754 owners plug-and-play customization without the hassle of messing with its internals.
2. Wide Connectivity: Other than the fact that it's built with a VGA port, there's also the connectivity ports that allows users to access the web through Wi-Fi and 3G/4G networks.
3. Maximum Security: Fujitsu understands the importance of keeping one's data secure. So with this, it has incorporated Fujitsu's Advanced Theft Protection (Intel's Computrace and Anti-Theft) and the optional fingerprint sensor.
4. Spill-Resistant Keyboard: Once again, Fujitsu considers all aspects of the work place- from data security to hardware security (whether it be theft or coffee spills).
5. Solid Build: This is another reason why businesses choosing to use them including banks and hospitals.
Cons
1. No Graphics Card Upgrade: When one prefers to maximize their time creating graphs, working on documents or even creating CADs, the E754 will fit perfectly in this description. Therefore, it's not the laptop for users who want to do a little hard-core gaming.
2. Low Native Resolution: A 15.6″ LED-backlit HD screen seems unjustified with a 1366 x 768 resolution (base model), especially when it's backed by a Haswell Intel processor and a HD Graphics 4600 card.
Verdict
The Fujitsu Lifebook E754 is simple, reliable and practical. It's a full-fledged desktop replacement for a company setting.
This Lifebook model is not cut for gaming nor is it the best laptop for multimedia enthusiasts.
However, its strength lies on its corporate design. Its mobility allows users to stay connected anywhere, anytime with the assurance that their data is safe and sound.
Quick Specifications:
up to 4th Generation Intel Core  i7-4610M vPro processors (4 MB, up to 3.7 GHz) with Turbo Boost Technology
Operating System: Windows 8.1 Pro
Hard Drive: up to 512 GB SSD
Display: up to 15.6″ High-Definition, LED backlit, 1920 x 1080
Graphics: Intel HD Graphics 4600, Up to 1.70 GB
System Memory: up to 16 GB DDR3 1600 MHz SDRAM (Dual Channel, 8 GB + 8 GB)
Battery life: up to 9 hrs. 40 min
Weight 5.7 lbs with optical drive
Price starts from $999 >