Lenovo hasn't been a huge gaming brand in the past, but recently, it's made large strides to become well-known in that area of computing as well. Specifically, it has tried to become a serious player in the realm of portable gaming, offering laptops that can stand up to modern games, often with Nvidia graphics options.
[gss-content-box]    Weekly ecoupons & deals for the Erazer X315 desktop:
COMPARE ALL x315 MODELS >
[/gss-content-box]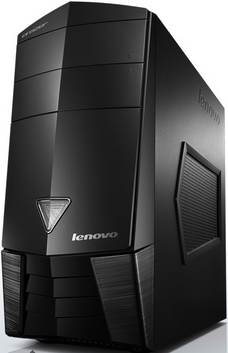 While their focus might have been on their laptops, their attempts to enter the gaming sector extend to their desktop models as well. The new Erazer X315 is an entry into this category.
It certainly makes sense to try to appeal to gamers as well as casual computer users. Where most people who need a computer for internet access and document processing will try to get the cheapest model they can, gamers are often willing to spend big if it means they'll get better performance on the newest games.
However, it's not always easy for companies used to making general computers to switch to building gaming machines. Dell was successful by purchasing a gaming computer company that already existed with Alienware, but others have struggled.
So how does Lenovo's newest attempt measure up?
Specifications
So far, the Erazer X315 looks like it might be a fair entry for the economical gamer's consideration. It doesn't exactly have top stats, but it does include processing power and graphics that are fairly good for its $1000 price tag. It has an AMD A8-7600 processor and an AMD R9 255 2GB graphics card.
Neither of these is bad, and in particular, the processor is great for the price tag. However, the graphics card is a little weak, especially in comparison to the processor. It's clear that Lenovo took its standard all-around PC build and simply ramped up the options, rather than considering which traits to focus on for gamers.
 Design
With Alienware's success, many other companies have tried to imitate their unique look or pander to gamers with LED-heavy designs, sometimes resulting in towers that look downright absurd. Lenovo avoids falling into this trap with the X315, instead keeping it subtle with a glossier plastic on the front and top for a two-tone design.
As far as port placement and construction, the tower seems well thought out. It offers a hard drive bay in the front for easy swapping, as well as two USB 3.0 ports, an audio jack, and a card reader. This gives easy access for most of the ports that gamers will need to switch things in and out of regularly. The back ports include two more USB 3.0s, 4 USB 2.0 ports, DVI, HDMI, and a better quality audio port.
Another nice feature of the case is its size and built-in handle. This makes it easy to transport to social gaming events or competitions.
Peripherals
Usually, companies don't bother to bundle a very exciting keyboard or mouse with their gaming PC, as gamers tend to buy those separately and move them from computer to computer.
However, the Lenovo X315 bucks this trend and comes with truly impressive peripherals.
The keyboard is backlit and large. It offers good tactile feedback and is comfortable to use even for long sessions. The mouse is also comfortable, and with six buttons, it's clearly designed for gamers. The scroll wheel doesn't move too easily, so gamers won't be frustrated by accidentally swapping out gear in-game. There are even included weights to allow gamers to adjust the mouse to their preferences.
Warranty
The bad news is that if you push the computer too hard, you'll have to pay for it yourself. Lenovo only offers the standard one-year warranty and it only covers manufacturer defects. There are no upgrade options, unlike such policies for many other companies.
Verdict
All in all, it's not probable that gamers will get particularly excited about the Erazer X315. While it may draw a few who are working on tight budgets, most gamers will prefer to save up a little more to get a machine with more power and a stat layout that is truly designed for gaming. A better graphics card is a strong priority, and there aren't many upgrade options on this model either, so it won't last as long.
Most likely, gamers as a whole will stick to brands that focus solely on building gaming computers, as many of them offer economy models with less RAM and better graphics. The Erazer X315 is not a bad choice, but it's not the best one for its price, either.
Lenovo Erazer X315 quick specifications:
Processor – AMD A8-7600 (3.10GHz 4MB)
Operating System – Windows 8.1 64
Memory – up to 12.0GB PC3-12800 DDR3 1600 MHz
Graphics Card – AMD R9 255 2GB
Hard Drive –  up to 2TB 7200 RPM + 8GB SSHD
Keyboard – up to USB Game keyboard
Pointing device – up to USB Game Mouse
PRICE STARTS FROM $589 >