The Lenovo Y50 combines power and portability at a reasonable price, making it one of the best computers for the consumer on the market.
It has a 4rd Generation Intel Core i7 processor powering it and is compact and stylish. Anyone looking for a reliable, powerful, portable brand name computer at a manageable price should go for the Lenovo Y50 gaming laptop. Lenovo follows through on its brand promise and provides another great, exciting machine with this computer.
[gss-content-box] Save with Weekly deals & coupon codes + FREE shipping: 
COMPARE ALL Y50 MODELS 
[/gss-content-box]
Pros and Cons of the New Lenovo Y50-70
If you are one of those individuals who adore a brushed aluminum finish on laptops, Lenovo Y50 is definitely for you. Its brushed aluminum finish will help keep your fingers from living marks on your laptop. You will also love NVIDIA and Optimus.
However, one drawback that you might notice is that this laptop lacks disk drive activity indicators. The screen is another added factor. Although it is not as good as XPS RGBLED, it is still of good quality.
The sound is also excellent with the Dolby Advanced Audio speakers featured on Lenovo Y50. That is why this gaming laptop is considered as one of the best multimedia laptops in the market today. As for the build quality, one thing that you might worry about is the LED screen.
It is because the screen is thin and may easily flex even on slight pressure. That means you cannot just throw it into your backpack on a daily basis or mishandle it, as it could definitely damage the device.
As for the keyboard, it is acceptable and you will easily get used to it after a number of uses. You will not experience any difficulty with it and some of its pros include no missed keys, same location for the window's keys and consistent white backlight.
The drawback, on the other hand, is that the keyboard can be easily flexed and some keys are slightly sloppy. However, the touchpad is quiet bad although it looks good with its silver edging. One of the cons of the touchpad is that it is too smooth.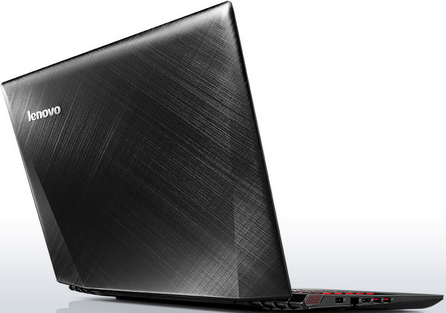 The fan makes very low level of noise compared to other laptops. As for temperature, there are two issues that you might notice. The Y50's keys may feel a bit warmer than usual after playing games for awhile. This heat usually affects the palm rest, the keyboard and the keyboard bezel.
Another temperature issue is the placement of the hard drive. Certain games can push it to its maximum temperature and although it will not affect the hard drives immediately, this may have bad effects after a period of time.
When playing games, you can actually max out your gaming experience by simply clicking on the Extreme or Ultra slider. The disk drive performance is faster and quieter compared to other laptop models.
The price that you will be paying for is reasonable enough for the quality of the laptop. However, before deciding to buy this Y50, make sure to do some research first to determine if it could meet your standards when it comes to a gaming laptop.
Prior to making a purchase, you can check out some customer reviews  first. These reviews can provide you feedbacks from those who have actually tried using the laptop. Reviews can help you know more about the advantages and disadvantages of opting for this product.
You should also check out other brands for comparisons, when it comes to the features and prices of the laptops. This can make it easier for you to decide which one you should opt for. If you are not a gamer, on the other hand, you can also check out other Lenovo products for other choices.
Lenovo Y50 Quick Specifications
4rd generation Intel Core i7 processor
Operating system: Windows 8.1
Graphics: NVIDIA GeForce GTX 860M 4GB
Display: 15.6″ FHD LED, resolution (1920×1080)
Weight 5.3 lbs
Up to 5 hours
Hard drive: up to 512GB SSD
Memory: up to 16GB DDR3