The Sony VAIO Tap 21 touchscreen desktop is a one of a kind all-in-one PC worthy of being praised for its original and fresh form factor.
It is apparent that Sony's goal in designing the VAIO Tap 21 is to offer consumers a portable, fun and fully functional Windows 8 device.
See the latest deals for the Sony VAIO Tap 21 >
In short, it's a tablet-desktop hybrid capable of providing group-oriented fun for the technologically-enthused.
Sony VAIO Tap 21 AIO: The Versatile Home All-In-One PC
Build and Design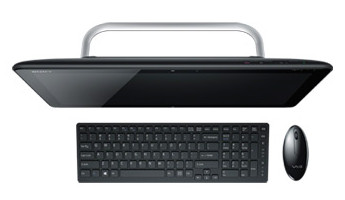 The Tap 21's build ideals root from Sony's objective to provide a transportable AIO with laptop/tablet power retention during transfers.
This said, the Sony VAIO Tap 21 comes with a built-in internal battery which has an average life of 2 hours and 45 minutes depending on its usage.
Another standout feature of this Sony VAIO model is its new form factor. Setting it in portrait, landscape (desktop) or lying flat on a tabletop is as simple as propping its kickstand to accommodate one's preference.
Unfortunately, the angles to which the kickstand can be adjusted is only limited to these modes. It would have been even more amazing if Sony were able to include a wall mounting option.

The Tap 21 weighs about 8.6 lbs (3.9 kg) which means that carrying it around isn't such a good idea.
On the other hand, healthy adults won't be having any problems transporting it from one room to another. With its ten-finger capacitive touchscreen, children and children-at-heart will enjoy countless hours playing jigsaw puzzles with PuzzleTouch or drawing doodles wiith Sony's Family Paint software.
Performance and Graphics
The Sony VAIO Tap 21  may not be for fans of ultrabook speeds or hardcore gaming as it only sports an Intel HD Graphics 4400 and a low-voltage 4th generation Intel Core i5-4200U mobile processor. Then again, this is what keeps the Tap 21's battery consumption and heat emission in tabs.
Amazingly enough, Sony certainly designed this AIO with ample room for upgrade. Pulling its back panel off reveals the battery unit and some slots for easy memory replacement.
Connectivity
Another great aspect about this all-in-one PC is its wide array of connectivity options. For instance, it has 2 Superspeed USB 3.0 ports, an Ethernet LAN, a multimedia card reader and audio jacks. It did, however, lack an HDMI input and optical drive. Wireless ports include 802.11 b, g, n, and a not-so-satisfactory Near Field Communication (NFC) capability.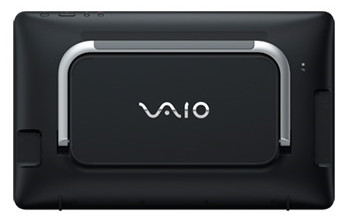 Pros and Cons
The Tap 21 is indeed fresh and one of a kind. Sony incorporates portability to the many AIO features which makes it an interesting device for Windows 8 users to behold. Below is a summary of Sony VAIO Tap 21's highs and lows.
Pros
1. Windows 8.1 Touch Functionality. All-in-ones are known for their touchscreen displays and the Sony VAIO Tap 21 is no different. It takes advantage of Windows 8.1's touch-focused interface.
2. The Perfect Family PC. Enjoy playing games with your friends and family. The Sony VAIO Tap 21 can be adjusted to a variety of positions to cater to one's needs- from lying flat for board games to portrait mode for reading long documents.
3. FingerTapps Organizer. The FingerTapps application makes this VAIO model perfect for organizing dates, text and voiced messages, schedules, appointments and reminders.
4. Transportable. As a desktop replacement, the Tap 21 is special. It's easily transportable from one place to another. And it can remain on while doing this move.
5. Upgrade Friendly. Unlike Apple, Sony understands the user's desire to upgrade. With this Sony VAIO model, upgrading the memory or changing the internal battery is as simple as popping out the back lid, undoing some screws and replacing these parts.
Cons
Buggy Near Field Communication (NFC). This Sony machine's NFC could have been a promising perk for potential users. Unfortunately, it doesn't do much at the moment other than making some noise. It's nothing a quick driver update can't fix.
Verdict
There's no question that the Sony VAIO Tap 21  is fresh and original. Sony's attempt to introduce a new form factor would have been perfect if it weren't for the minor flaws such as the buggy NFC and the lack of an optical drive. Nonetheless, the Tap 21 is certainly a great fun and functional addition to homes belonging to gadget-enthused families who are willing to try something new.