When it comes to web design, big names in the market sometimes don't include Serif WebPlus X8. Quite often, the famous brands like Adobe Dreamweaver, Coda2 and Microsoft Expression Web will dominate search engine results.

However, of all the four mentioned, Serif WebPlus X8 is surprisingly one of the easiest to use.
To be more precise, novice users will have the advantage of enjoying an entire arsenal of widgets, contact forms, templates and newly-added HTML 5 features at their disposal in building their website.
Serif WebPlus X8 is User-Friendly
Out of the many reviews written on the Serif WebPlus website, user-friendliness is on top of its pros list. Inexperienced website builders can choose from a variety of templates included in the software. In fact, it is possible to create a fully-functional website without prior knowledge or experience in HTML coding.
Often times, the mere act of resizing images and videos for a website can create so much hassle for the creator. With Serif WebPlus X8, the placement of multimedia files is as easy as dragging and dropping it.
Serif WebPlus X8 Software is Simplistic
A variety of sliders, navigation tabs, and gallery options are available at one's fingertips. If users start from scratch, these widgets will require general knowledge in coding and scripting.
Since not all website creators have such know-how, WebPlus X8 makes it easier by having these ready-made that once selected is automatically added into the project.
Like in older versions of the WebPlus software, a handful of preset items which users can customize, starting with color schemes, are available for tinkering.
Serif WebPlus X8 is Fast, Efficient and Compact
Unlike previous versions, the WebPlus X8 now supports new 64-bit and HTML 5. Since most processors and operating systems function in 64-bit, X8 performs undeniably faster (something that becomes more apparent for larger webpage projects).
However, it is important to remember that HTML 5 coding should be limited for the time being since some browsers may not yet support it. Unlike Firefox and Safari, Internet Explorer only began integrating its in use in version 9.
The Benefits of Buying the Serif WebPlus X8 Software
1. New Start-Up Screen
The X8's start-up screen is cleaner and slicker. This new layout simplifies the creation of a webpage. For instance, clicking on New Site presents a screen where all the basic requirements are listed in a single fill-up form. Unlike in WebPlus' older versions, creators will no longer have to go through a series of 'Next' that used to be pretty nerve-wracking.
2. Templates
In the download version of X8, the software includes a little over 30 website templates, all with royalty-free images included.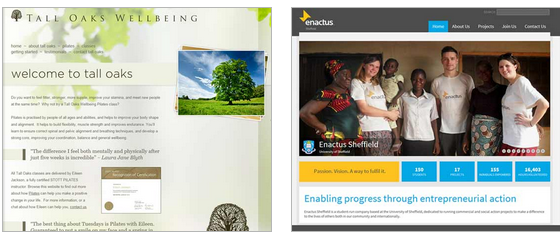 3. Adding One's Own Videos
Another outstanding new feature of Serif WebPlus X8 is its own video player. Website builders can add and play their videos in MP4 and other acceptable formats. Moreover, Serif's new video player accommodates multiple videos in slider form where visitors can select what video to watch or play.
4. Editable Contact Forms
More customizable contact forms are now available. Unlike in WebPlus X6, creators can now edit them in 'Forms' under 'Quick Builder' to change themes, colors, padding, box and font styles, text content and even borders.
5. Subtle Changes in Adding and Editing Images and Customizing Slides
Serif has greatly improved its software by listening to its consumer's requests.
X8 photo sliders can now have changeable transition times. Moreover, designers may directly use images from their hard drive and Asset Browser. Picture and photo alterations can be accomplished through the 'Edit Picture' dialogue box where all X6 image-revising features are now consolidated.
6. E-commerce Support
Serif WebPlus X8 now supports Paypal, Roman Cart and Mal's E-Commerce with up to 10 options per item. This includes checkout, cataloging, tax calculations and shipping costs.
7. Responsive Web Design
Responsive web design is a system where a single design is utilized to work in different devices and platforms. By using the WebPlus X8 your site will be highly compatible with mobile and tablet devices. However, since Serif WebPlus X8 is feature-rich, going for this kind of incorporation will require a significant ramp-up on WebPlus, which may cause possible restrictions in some heavily used elements.
8. The Affordable Price
To consider all features included in WebPlus X8, the one-time payment of $119 is a real deal to compare to the Adobe Dreamweaver CC, which costs $19.99 per month.
The Downside of Choosing Serif WebPlus X8
1. Requires Time to Get Accustomed To
Even the simplest software requires a good amount of time to learn through. To master all of Serif WebPlus X8's components still involves some patience and time investment.
2. Platform Limitation
Unfortunately, Serif WebPlus X8 is only limited to Microsoft Windows operating systems. Mac-loyalists will have to settle with iLife 09 for the time being.
Verdict
Serif's WebPlus X8 is a feature-rich, easy-to-use website designing software. Inexperienced users get to take advantage of professional tools to use on their webpages at an economical price. Furthermore, no coding know-how is necessary to create a top-of-the-line website.
For more accomplished designers, WebPlus provides flexible tools and freedom to create and customize layouts down to the smallest detail, possibly with minimal coding.
Finally, if there's a downside with WebPlus X7, that would be its operating system limitations.