As the latest member of the Ideacentre lineup, the Lenovo 200 mini desktop continues to uphold the company's claim in retaining the title of having created the smallest full-function CPU in the world. Furthermore, the Lenovo Ideacentre 200 desktop is 80% faster than its predecessors.
[gss-content-box] This week's ecoupons & deals for the Ideacentre 200:
Lenovo Ideacentre 200 Mini Desktop: Loads of Entertainment in One Tiny Device
Build and Design
At 0.7 inches thick, the Lenovo Ideacentre 200 holds the title for being the smallest desktop PC in the market. Space consumption won't be an issue with this model as it uses Lenovo's VESA mount for optimal placement . Furthermore, the company takes it up a notch by having the Lenovo Ideacentre 200 provide its users multimedia prowess that's capable of turning most displays into entertainment hubs with web browsing, gaming and video streaming as its other functions
If there's one concern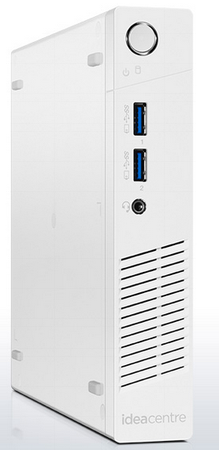 to the 200's appearance, it would be the shiny black front and back panel which give it a "plastic" feel. Nonetheless, this does in no way affect the overall beauty and performance of this tiny yet powerful device.
Performance and Graphics
Compared to its Ideacentre predecessors, Q180 and Q190, the Lenovo Ideacentre 200  makes a massive leap from the "laggy" Intel Atom processors to the trendier Broadwell Intel Core i3 ones. However, consumers must be aware that the 200 is built with an Intel Mobile Celeron 3205U and a 2GB DDR3 memory by default.
The lenovo Ideacentre 200 runs with Windows 10 Home 64 and an integrated Intel HD graphics card which in turn transforms any large screen display into an easily-navigable visual feast.
Nothing short of an entertainment center engineered to fit in a petite device, the mini desktop 200 comes with an S/PDIF + Audio In/Out port to provide superb sound quality. It also supports full HD playback and 7.1 channel surround sound via HDMI.
Connectivity
Just like most regular-sized desktops, the Lenovo Ideacentre 200 mini desktop features a plethora of ports and peripherals. Included in its I/O options are 2 USB 2.0 and 2 USB 3.0 ports, a DisplayPort, Ethernet LAN, HDMI and DC jack.
Short of a Bluetooth, 802.11 AC(1×1)+BT4.0 comprises the rest of its other

connectivity options.
Pros and Cons
The Lenovo Ideacentre 200 comes with an amazing number of features for its small size. Not only is it well-capable of accomplishing day-to-day computing tasks, but it also switches into a multimedia source for one's entertainment needs. Below is a list of the Ideacentre 200's pros and cons.
Pros
1. Small-Form-Factor (SFF). Not only is it tiny and compact, but it's also the smallest full-function desktop in the world.
2. Port abundance. Even with its small frame, Lenovo made sure to incorporate all the necessary ports for everyday use and easy connection to other devices.
3. S/PDIF connector. The PC comes with an S/PDIF connector for high quality, loss-less audio output.
4. An entertainment package. This mini desktop may not have a top-of-the-line graphics card for gaming, but it will definitely deliver visually-engaging graphics and richly-textured sound.
Cons
1. Lack of a Blu-Ray or DVD-R/RW and Bluetooth. Although an optional add-on, the lack of a built-in Blu-Ray or DVD drive in its basic packaging can have consumers considering other SFF desktops. Also, Bluetooth would have been a nice convenience.
Verdict
Be it for work or play, the Lenovo 200 can turn one's TV into a fully functional desktop and multimedia hub.
Paired with Lenovo's Enhanced Multimedia Remote and Blu-Ray drive, the desktop is the perfect companion for users who take pleasure in experiencing home-theater quality entertainment.