Lenovo Yoga 910 Laptop: The New Ultimate Laptop Hybrid
The creation of the new Lenovo Yoga 910 is certainly taking the tech community by a storm. This laptop takes advantage of Windows 10's fullest potential by offering a 10-point multi touch display and a keyboard that can effortlessly flip to whatever angle desired.
Lenovo is slowly but surely dominating the gadget market. Their decision to integrate the ultrabook's powerhouse performance into the Lenovo Yoga 910 with a promising battery life is sheer genius.
[gss-content-box]Weekly deals: FREE shipping for the Lenovo Yoga 910:
[/gss-content-box]
The Lenovo Yoga 910 refines essentially every flaw on last year's Yoga 900; with a significantly better keyboard and trackpad, larger display, smaller bezels, and much longer battery life. Even though the Yoga 910 is 13.9″ (almost an inch larger), it is the same exact size as the Yoga 900, meaning the sleeve for your Yoga 900 fits the Yoga 910 perfectly.
Design and Build
The Lenovo Yoga 910 laptop has four different modes: tablet, laptop, stand and tent mode.
The revolutionary 360-degree beautiful watchband hinge allows effortless manipulation for whatever purpose this hybrid will be used for.
At approximately 3 pounds or 1.38 kg, this laptop and tablet hybrid comes with a 13.9″ IPS (In-Plane Switching) FHD display. From movie viewing to gaming, the Yoga 910 caters to all with ease and style.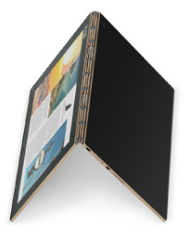 It isn't one of the slimmest ultrabook out there. However, at 0.56″ thick, the Lenovo Yoga 910 isn't the bulkiest either.
Performance and Graphics
There's nothing more to ask from a hybrid sporting the 7th generation Intel Core i7 processor and a 3200 x 1800 resolution touch screen UHD display. Even Fruit Ninja will breeze away with that much power. And there's a lot more memory to spare since its maximum RAM upgrade is up to 16GB.
Additional Features
Like Sony VAIO's Rapid Wake technology, this new Lenovo model introduces the InstantResume for a fast, almost instant, transition from sleep to wake mode.
Lenovo Motion Control makes use of the Yoga 910's 720p HD webcam with dual-array microphones to capture simple hand flicking gestures to adjust the volume, flip through digital pages and rewind or forward music.
The function of touchscreen with transaction to a tablet mode is extremely useful when reading articles, while you can enjoy the convenience of typing with the keyboard in a laptop mode when writing papers.
The Yoga 910 features a spacious keyboard and a bigger trackpad than previous Yoga.
Connectivity
The Lenovo Yoga 910 port provisions include 2 USB type C with charging, 1 x USB type C 3.0 with video-out, 1 USB 3.0 with always-on charging, Audio combo jack.
Pros and Cons
Although it isn't perfect yet, the Lenovo Yoga 910 has no doubt raised the bar high for upcoming laptop-tablet hybrids. The list below is a summary of the Yoga 910's pros and cons.
Pros
Ultimate Touch Screen Functionality. The 4K multi touch display allows multiple tasks and touch-related functions to be done simultaneously.
360 Degree Flip-Fold Freedom. The technology used in creating the hinges of the Lenovo Yoga 910 is a pioneer of its kind. Nonetheless, these hinges demonstrate the Yoga 910's robust flexibility.
The Culmination of Ultrabook and Tablet Standards. The Yoga 910 sports a latest Intel Core processor. It also features a variety of connectivity options no tablet could ever provide. Its overall list of specifications is just overwhelmingly impressive.
Built-in Front HD Webcam. The HD 720-p webcam has two purposes. One is for high definition video conferencing. The other is to serve as input for Lenovo's Motion Control.
Stream Netflix in Ultra HD.
Cons
Some reviews might comment on the lack of video card but it's an ultrabook.
The keyboard design. Lenovo decided to place the up arrow button on the keyboard in the place where you normally have the right shift key.
Lack of upgradeability to a dedicated graphics card. An Intel HD 520 graphics may not be able to contend against the NVIDIA Tegra 3 chipsets or the NVIDIA GeForce GPUs found in ultrabooks.
Verdict
The Lenovo Yoga 910 laptop is a gadget of ultimate flexibility and versatility. The Yoga 910 is a groundbreaking device that offers its users a chance to experience Windows 10 at its finest through the unification of the ultrabook and the tablet.
Yoga 910 quick specifications:
Processor: 7th Generation Intel Core i7 processor
Operating System: up to Windows 10 Pro 64
Memory: up to 16.0GB DDR4 2133 MHz
Graphics Card: Intel HD graphics 620
Hard Drive: up to 512GB PCIe SSD
Display: up to 13.9″ UHD IPS Multi-touch (3840×2160) with integrated camera
Weight 3.04 lbs
Battery life: up to 12 hours
Price starts from $1999 >
Related products:
[auction-nudge tool="listings"]