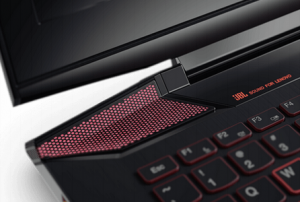 Save with ecoupons & weekly deals  + FREE shipping on the new Ideapad Y700 14″- 80NU0029US  – Black
Lenovo Ideapad Y700 14″ Laptop specifications:
Processor: 6th Generation Intel Core i5-6300HQ Processor (2.30GHz 6MB)
Operating system: Windows 10 Home 64
Display: 14.0″ FHD IPS AntiGlare (1920×1080) with integrated camera
Graphics: AMD Radeon R9 M375 4GB
Memory: 8GB
Hard Drive: 1TB 5400 RPM + 128GB PCIe SSD
Battery life: up to 5 hours
Weight: 4.8 lbs
If you're looking for a powerful laptop or desktop replacement to take to work and to college, the Ideapad Y700 14″ Laptop – 80NU0029US features better specifications than most of the laptops on the market.
This is a very good easy to use computer with the great performance. The memory and disk is larger than most laptops at this price. The graphics card is decent, and can run simple games like Minecraft acceptably (roughly 30 fps), Call of Duty (60 fps).
The Red LED backlit keyboard is also pretty good and the touchpad seems to work well. The lenovo Y700 is good for school, engineering (AutoCAD, Revit, Sketchup), gaming and more.
Cons:  I've found is that the two right side USB ports are too close together (as the were on the Y50/70) – two standard flash drives cannot be inserted at the same time. It's a little heavy. The cooling system on the Y700 is a bit loud.
[auction-nudge tool="listings"]