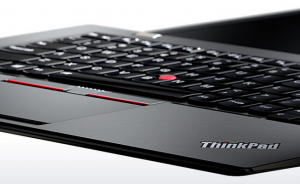 Save 15% with coupon code SAV15THINKPAD plus FREE shipping on the 14″ Lenovo ThinkPad X1 Carbon Ultrabook – incredibly fast, built to military specification, perfect for school.
Lenovo ThinkPad X1 Carbon ultrabook specifications:
Up to Intel Core i7-6600U Processor (4M Cache, Up to 3.40 GHz)
Up to Windows 10 Pro 64
Intel HD Graphics 520
Up to 16GB memory
Up to 512GB SSD storage
Up to 10.9 hours with integrated RapidCharge battery (50Whr)
Up to 14″ WQHD+ (2560 x 1440) IPS non-touch display
Weight 2.6 lbs / 0.7″ thin
ThinkPad X1 Carbon Ultrabook – A New Level of Quality from Lenovo
The ThinkPad X1 Carbon Ultrabook (4rd Gen) is a latest business-class laptop from Lenovo. If you're aware of Lenovo, then you should have some idea of what kind of quality to expect here; Lenovo has rightly earned a reputation for making fantastic business machines, and the ThinkPad X1 Carbon is just that.
As an Ultrabook, it's supremely portable, weighing as little as 2.6 lbs (depending on configuration) while managing a ten-hour battery life. These are qualities the ThinkPad X1 Carbon shares with many other Ultrabooks, though.
Let's take a closer look at things, in order to determine whether the ThinkPad X1 Carbon is something special or just another member of the pack.
As mentioned, the portability of the unit is fantastic. The 14-inch screen is large enough to provide a good user experience without being unwieldy to lug around, and ten hours of battery life allow you to get real work done away from an outlet.
Under the hood, the ThinkPad X1 Carbon is no less impressive; a 6th-generation Intel Core i5 or i7 processor and up to 16GB of fast DDR3L RAM provide the machine with computing grunt, while a SSD that ranges from 128GB to 512GB strikes a compromise between space and speed.
Obviously, the top-of-the-line variant with all the bells and whistles will outperform the lower-end ones, but even a basic ThinkPad X1 Carbon is definitely worth taking note of.
You can see just how good the ThinkPad X1 Carbon is by comparing it to one of Lenovo's last-generation models, the ThinkPad X250. In spite of a screen that's only 12.5 inches across, the X250 is thicker and heavier than the ThinkPad X1 Carbon.

The HP ProBook 640 G2 Notebook PC can compete with, and actually slightly best, the ThinkPad X1 Carbon in weight and battery life- but even the highest-end variant of that model can't quite equal the Lenovo in raw computing power, and it's another low-grade screen.
As mentioned, the ThinkPad X1 Carbon is intended for business use, and it shows in the more esoteric aspects of the feature set. A 720p webcam is ideal for teleconferencing, and the fingerprint reader and BIOS encryption provide best-in-class security.
Of course, far and away the most important thing for business use is the laptop's keyboard- Lenovo's ThinkPad line is known for fantastic laptop keyboards, and the ThinkPad X1 Carbon doesn't disappoint, with probably the most comfortable keyboard in an Ultrabook overall.
Lastly, there's the case- large portions of which are reinforced with carbon fiber, granting incredible durability without increasing weight. This is why the machine is called "Carbon," and it's just as big a deal as it sounds. The ThinkPad X1 Carbon makes a great machine for business travelers, and if you have the money to spend on a laptop that starts at $1100, it hardly makes a bad personal unit.
All in all, the Lenovo ThinkPad X1 Carbon Ultrabook is a top-notch piece of hardware that combines performance with portability. This is the kind of machine that was originally promised with Intel's Ultrabook marketing initiative.