Take Powerful Gaming on the Go with the Lenovo Legion Y520 Laptop
As technology has advanced, it's been questioned which company will be the first to release a 4k gaming rig that is portable. Lenovo has beaten everyone else to the punch with the Y520.
[gss-content-box] Weekly coupons & offers for the gaming Lenovo Legion Y520 Laptop:
Use coupon LEVELUP20 and save 20% off
[/gss-content-box]
A 15.6 UHD screen with a 3840×2160 resolution is what gives it the right to claim that title, though its powerful processor and graphics card certainly help. While it isn't the perfect choice for every gamer, it's certainly an impressive machine and something everyone should look into, especially at its price point.
Portable but Powerful
The Legion Y520 is leaps and bounds ahead of the previous installment in Lenovo's Y series, the Lenovo Y500. This is true both in graphics power and in portability.
It has the NVIDIA GeForce GTX 1050 Ti card under the hood, and with customization, it can have up to 4GB of graphics memory. It has held up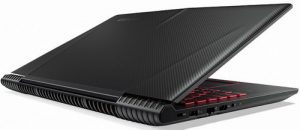 impressively under all the standard tests and is certain to be able to handle all the newest games – those that have already come out as well as those that were announced at the recent E3 conference.
The sound is also up to gaming standards, with JBL speakers, a subwoofer, and Dolby Atmos Audio. All commentary on the sound has indicated that this laptop has truly crisp and enjoyable audio, both for gaming and for voice chatting.
However, it's also over half a pound lighter than the previous Y series installment. This is partly because it has a slightly smaller monitor, but has more to do with its design. It is also a little bit more than an inch thick, so it can fit in most bags easily. Along with the black metallic finish both on the outside case and on the keyboard, the whole design gives off a very sleek and slim feeling that is supported by how easy it is to take with you.
It Can Handle the Heat
Obviously, overheating is a concern for any computer, and even more of a concern if you are going to be tasking it heavily with high-end games. The Y520 has not just one but two fans to help combat this problem. They both run silently for the most part, which is very nice for anyone who is used to dealing with fans that start whirring like they're ready for takeoff at the slightest task.
While it doesn't have the best heat performance on the market, its main outperformer, the Sager NP8268, has more room for cooling (and is therefore less portable) and also runs a lower-end graphics card. So for a laptop with its performance and portability, it scores very well.
So What's the Downside?
Every machine has its downfalls, even those as impressive as the Lenovo Legion Y520. For the Y520, while it has very high performance for a machine of its size and price, it is true that it isn't quite as high performing as some other rigs. Trade-offs are an unfortunate necessity, but for the gamer on the go, it is more than worth it.
Another disadvantage is the Y520's lack of optical drive. This was again due to the available space. However, this is easily circumvented. Users can purchase a USB optical drive if necessary, although many games can be purchased digitally and do not require a disk, and much video is streaming now. This means that not having an optical drive is not as big a handicap as it used to be.
Other early complaints have related to the feeling of the keyboard – some find the feedback it gives pleasant and useful, while others don't like how it feels. This is more of a personal preference, but it is certainly different from other laptop keyboards. The computer also has a lot of bloatware loaded onto it. This is common for Lenovo computers, and indeed, for many laptops, regardless of manufacturer. Once these unnecessary apps and programs are deleted, the computer will boot up faster and run better.
Conclusion
While no machine is perfect, the Lenovo Legion Y520 has a lot to offer. The title of the first 15-inch laptop with a 4k display is certainly impressive enough on its own. Apple has made much of the new MacBook Pro's display, but it doesn't even come close, and also has a much harder time with games. Along with a relatively small size and the ability to keep itself fairly cool, it's an impressive package that should not be ignored.
While hardcore gamers might want something larger and even more powerful, the Y520 is great for video editors, digital artists, and gamers who value portability over the ultimate performance.
Lenovo Legion Y520 Quick Specifications:
Processor: up to 7th Generation Intel Core i7-7700HQ Processor (2.80GHz 6MB)
Operating System: Windows 10 Home 64
Display Type: 15.6″ FHD IPS AntiGlare LED Backlight (1920×1080) with integrated camera
Memory: 16.0GB DDR4 2400 MHz
Hard Drive: 2TB 5400RPM + 256GB PCIe SSD
No Optical Disc Drive
Graphics: NVIDIA GTX 1050 Ti 4GB
Bluetooth Version 4.0
Red Backlit English Keyboard
Weight: Starting at 5.3 lbs (2.4 kg)
Battery life: up to 4 hours