Take it for Lenovo to come up with the A540 desktop, a baby brother to its massively amazing computing system, the A740. Other than the fact that the Lenovo A540 sports a 23.8″ screen, it also comes out of the box with a Windows 8.1 operating system.
[gss-content-box] This week's deals for the Lenovo A540:
[/gss-content-box]
Lenovo A540 Overview: All-In-One Desktop for Everyone
Build and Design
As mentioned previously, the A540 desktop not only looks like the well-critiqued A740, but it also functions and performs like it. This ultra-slim, ultra-stylish AIO comes with a smooth metallic aluminum shell that's pleasing to look at whichever angle it is positioned.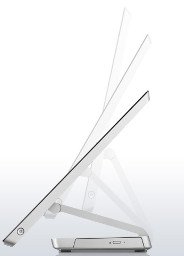 And speaking of angles, its 23.8″ Full HD multi-touch display is capable of tilting from -5 to 90 degrees. These 95 degrees of freedom allows board-like games and applications to be enjoyed by more than one person.
Comparatively, some standout features the  Lenovo A540 has that the A740 doesn't. Its screen size, screen upgrade (into an IPS LED display) and the touch-centric Windows 8.1 OS.
Performance and Graphics
Even with the reduction in screen size, native resolution is maintained at 1920 x 1080. For whatever purpose the Lenovo A540 will be used, it can certainly satisfy gamers, as well as ordinary home and powerhouse business users.
The A540 computer comes with the latest Haswell processor and graphics card. At a minimum, this AIO can be customized with the Intel Iris Graphics 5100 and Intel Core i7-4558U.
There are no specifics when it comes to the A540's target consumers. The Lenovo A540 desktop is perfect for families, movie buffs, and professional photo and video editors and gamers. The 10-point multitouch capacitive display is highly responsive and the 23.8″ LED screen's in-plane switching allows a variety of viewing angles not so many AIOs are capable of.
Connectivity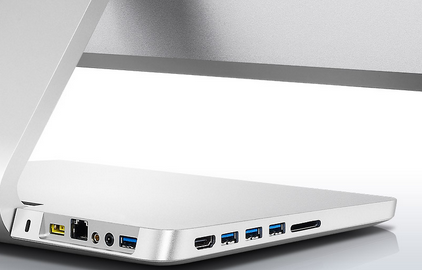 Wired options include the typical assortment of USB Superspeed 3.0 and 2.0 ports, a full-sized HDMI-in and -out and 6-in-1 card reader.
Aside from the usual wireless mouse and full-sized island-style AccuType keyboard, the Lenovo A540 is built with an 802.11 BGN Wi-Fi.
Pros and Cons
Like its predecessor, the all-in-one A540 is sleek, modern and beautiful. Performance-wise, it's expected to function better than the A740, especially since it's built with an IPS Full HD LED-display and a touch-focused Windows 8.1 operating system. Below is a list of the A540's pros and cons.
Pros
1. In-Plane switching. The IdeaCentre A540 display can be tilted to lie flat like a table for gaming purposes or at 45 degrees for touch-intensive usage.
2. The Dolby Home Theater 4. It may be packed with a smaller screen, but it certainly won't hinder users from enjoying a visually stunning movie experience with rich-textured audio quality.
3. A smaller size. Lenovo made sure that people of different preferences will have choices with their favorite brand. The smaller size is the perfect choice for areas with limited space.
4. The beautiful and sophisticated design. It's no surprise that others have mistaken this AIO for a Mac. Lenovo's aluminum shell and modern industrialistic design is of superior caliber.
Cons
1. Port positioning. A minor flaw in the A540's design is the location of its HDMI-in and -out ports. The additional visible wire while it's being used can be an eyesore for some.
Verdict
The Lenovo A540 All-in-One desktop PC is not only smaller in size, but it's also cheaper in price making this all-in-one a viable option for consumers who were discouraged with the A740's cost. It doesn't matter whether users are into home theater, avid gaming or photo and video editing. Consider this Lenovo a break from the beastly A740 and a bang for the buck.
Specifications for the A540 – F0AN0010US :
4th Gen Intel Core i7 processor
Windows 8.1 operating system
Intel Iris Graphics 5100
Display: 23.8″ Full HD (resolution 1920 x 1080) 10-point multitouch with IPS technology
Hard drive: 1TB HDD (5400 RPM) + 8GB SSHD
Memory: 8GB
Integrated webcam and microphones
Lenovo Motion Control
AccuType wireless keyboard and mouse included
Weight: 15 lbs
Related Articles
Lenovo IdeaCentre Q190: Loads of Entertainment in One Tiny Device
Lenovo H530s Desktop: Compact Home and Office Computing System