Save $450 with weekly deals & coupon codes plus FREE shipping on the Lenovo IdeaCentre AIO 910 27″ – 6th generation Intel Core i3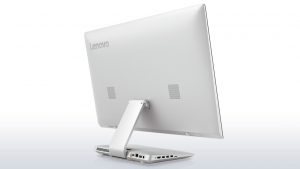 CLICK TO SAVE >
Lenovo IdeaCentre AIO 910 27″- F0C20001US specifications:
Processor – 6th Generation Intel Core i3-6100T Processor (3.20GHz 3MB)
Display – 27″ All In One FHD with with an optional Multi-touch function 1920×1080
Operating System – Windows 10 Home 64
Memory – 8.0GB PC3-12800 DDR3 SDRAM 1600 MHz
Graphics Card – NVIDIA GeForce GT940A 2GB 2GB
Hard Drive – 1TB 5400 RPM
Weight – 27.8 lbs
Price starts from $799 >
Lenovo IdeaCentre AIO 910 27″ PC: Interactive Fun in a Smart All-in-One
Garnering at least 5 awards for innovation and originality, the Lenovo IdeaCentre All-in-One 910 27″- F0C20001US is certainly out of the box! This 27″ table PC wonder has received LAPTOP Magazine's Best PC award, CNET's and Digital Trend's Best of CES and more. Perhaps it's because of the additional gaming peripherals, or even the inclusion of powerful hardware, it definitely deserves bragging rights to call itself the first of its kind.
Even though branded as a hybrid between desktop and tablet, make no mistake in thinking it'll perform like the previous ones. This All-In-One (AIO) is armed with the big guns, so to speak.
Build and Design
The Lenovo IdeaCentre AIO 910 desktop is distinctive with its 27″ LED full HD screen. The clarity of the screen is phenomenal. With a native resolution of 1920 x 1080 px (and a powerful NVIDIA GeForce GT940A graphics card), eye popping visuals and crisp and clear graphics are to be expected of it. It's also impressively thin at 0.77″ thick and sufficiently light at 27.8 lbs.
The touch screen enables 10-point capacitive multi-touch for multi-user functions.
Performance and Graphics
Like most modern AIOs, the Lenovo IdeaCentre AIO 910 may be assembled with a Skylake Intel Core i3 processor.
Connectivity
With so much hype over its performance and design, Lenovo must have compromised one thing or another to get this dream computer out there. And they sure did.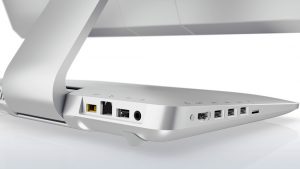 Connectivity ports included in this model are limited to 4 x USB 3.0, 10/100/1000 LAN, headphone and microphone jack, Power DC Jack, 3-in-1 Card Reader (SD, SDHC, SDXC). Wireless connection is a must. It is present with a Single Band 802.11 AC Wi-Fi. Bluetooth v4.0 is also included.
Pros and Cons
The Lenovo IdeaCentre AIO 910 desktop is fresh and ingenious. Design and performance won't come unnoticed. On the contrary, it seems that connectivity options Lenovo PCs are usually known for had to be sacrificed.
The list below summarizes the pros and cons.
Pros
1. Easy to Access Ports
All Ports, USBs on the base stand are comfortable, no need to go behind the display and search for the ports.
2. Multi-user Capabilities
Not only is the 27″ screen multi-touch, it's also designed with multi-user capabilities making it a great brainstorming or family gathering device.
3. Good Overall Hardware Specs
Aside from the fact that it runs the 6th generation Intel Core processor, pairing it with the NVIDIA GeForce 940A is pretty generous.
5. Adjustable Screen Options
Adjustable screen to achieve the perfect viewing angle.
Cons
1. No Battery
2. Sealed System
Upgrading or customizing this AIO table PC is impossible as opening it voids the warranty. Those who want different configuration models will have to wait for its availability.
Verdict
Lenovo once again outdoes itself by creating the Lenovo IdeaCentre AIO 910. Others may find the idea a little generic. Nevertheless, Lenovo proved to have stepped it up by presenting a smart all-in-one which encourages group-oriented activities. The large screen which makes things easier to read, write on, move, and save. It's for people who need to work and get things done quickly.