All-in-ones are a popularly growing trend in the desktop industry. To keep up with this, manufactures have begun packaging towered CPUs into small form factors. The Lenovo H530s desktop is known for this small-form-factor (SFF) and well-designed yet modest-looking chassis.
This week's coupons for the H530s desktop:
 Compact Home & Office Computing System
Build and Design
With its solid black steel frame and brushed-metal finish front panel, the Lenovo H530s desktop is a marvel to look at.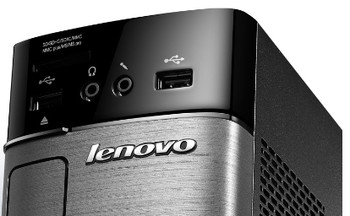 Though not as small as Lenovo's IdeaCentre K430, the H530s is pleasingly petite compared to normal-sized desktops. In fact, according to Lenovo's estimates, the Essential H530s is roughly half the size of a regular CPU. This makes it a lot easier to place in the most cramped work areas.
Internally speaking, the system leaves very limited room for upgrades. The H530s' shell has no extra slot for additional drive bays.
Performance and Graphics
With the cheapest prices come the  Intel Pentium G3220 processors. Users who want a little more kick on raw power can upgrade to a Haswell Intel Core i7-4770.
By default, the Lenovo H530s desktop comes with the Intel HD Graphics. This may not bode well for users who are into gaming.  On the contrary, this shouldn't pose much of a problem given its competitive pricing and office-centric nature.
Connectivity
The Lenovo H530s desktop's front panel makes accessing usually needed ports effortless. Front panel options include 2 USB 3.0 ports, the standard mic and headphone jacks and a commendably neat 7-in-1 card reader. At the back portion are four more USB 2.0, the Ethernet LAN, HMDI, and VGA ports. Another set of headphone and microphone jacks are also located herewith.
Although the Lenovo H530s desktop is not built with Superspeed USB 3.0 ports, this feature is an optional upgrade- so is the inclusion of an 802.11 b, g, n, WiFi.
All in all, Lenovo's H530s sports a substantial number of ports to meet one's average needs.
Pros and Cons
The Lenovo essential H530s desktop is a great business machine. It's an appealing price-and-performance match to budget-conscious business users and owners. The list below summarizes the H530s' pros and cons.
Pros
1. Slim, compact and attractive. The H530s desktop is perfect for the office environment. It doesn't take much space and its black elegance gives it a stunning yet straightforward appearance.
2. Competitively priced. Given its reliable and class-leading performance, the Lenovo H530s desktop is certainly a strong option for users who want to get the most out of their money. Price starts from $449.
3. Virtually non-existent bloatware. Given its "no-frills" nature, this business desktop is bundled with minimal to zero bloatware. That said, it comes with full versions of Cyberlink Power2Go.
4. WiFi. With the limited amount of internal real estate, Lenovo's option to integrate a Wi-Fi card is a nice touch.
Cons
1. USB 3.0 is not built-in. The absence of Superspeed USB 3.0 ports in its basic build may encourage consumers to consider desktops with more forward-focused hardware.
2. Limited upgradeability. With no extra drive bay and cables that crowd the motherboard's SATA 2.0 connectors, users might find it difficult to augment.
Verdict
Given its competitive pricing, adequate port selection and decent performance, the Lenovo H530s desktop can be one's perfect business partner.
And due to its size, the H530s is highly recommended for students, home-working professionals and businesspersons who need a wallet-friendly computing system with a less-than-adequate work area.
Finally, in spite of all its flaws, the H530s remains ahead of its small-form-factor rivals.
Specifications:
Up to 4rd generation Intel Core i3 processor
Operating system:  Windows 8.1
Up to 1TB HDD storage
4GB DDR3 memory
Optical drive: DVD Recordable
Dimensions: 4.1″ x 15.2″ x 12.0″)
Weight 7.9 kg (17.4 lbs