The Lenovo C40 touch computer comes in a neat and compact package. Whether this all-in-one will strike one's fancy will depend on what they're into, such as a competitive price point, a compact AIO build or a family-friendly quality. All of which the Lenovo C40 has.
[gss-content-box] This week's offers & ecoupons: FREE shipping plus
USPC4WUS310 >
[/gss-content-box]
Build and Design
Among the many C-Series, the Lenovo C40  stands out by having a 21.5″ FHD LED widescreen display with a native resolution of 1920 x 1080. Its purpose was to replace a desktop that's being used for everyday activities such as browsing, paying the bills, and enjoying multimedia files without putting a hole in the consumer's wallet.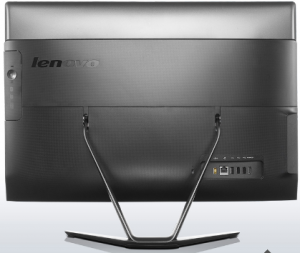 All its components are located inside the screen panel including the DVD-RAMBO, microphone, 720p HD webcam and speakers. With the traditional desktop build, users end up spending unnecessary time to organize wire clutter.
This is where the Lenovo C40's set-up is at an advantage. It is very well-capable of functioning with as little as a single wire. Moreover, the built-in 802.11 b, g, n, wireless card opens the possibility for wireless mouse and keyboard usage.
Performance and Graphics
While higher models are able to upgrade to dedicated graphics cards, the Lenovo C40  Touch will be limited to the Intel HD Graphics chipset. Nonetheless, this shouldn't be an issue for standard users whose purpose is to maximize productivity within the home or office using the latest Windows 10 operating system. And even then, entertainment buffs won't end up being disappointed with this C-Series' big screen visuals and excellent sound courtesy of Dolby Advanced Audio.
Connectivity
One of the benefits in owning an all-in-one is its wide array of connectivity ports- both wired and wireless. To begin with, it has 2 USB 3.0 ports and a 6-in-1 card reader on one side while an HDMI (out), Ethernet and 3 other USB 2.0 ports are situated at the back. Wireless options include an 802.11 b, g, n, Wi-Fi card.
Pros and Cons of the Lenovo C40 -30
The Lenovo C40-30 AIO desktop is one compact PC ideal for cramped spaces. Its usability is not limited to a certain age bracket as Lenovo made sure that everybody in the family will enjoy using it. To sum it all up, below is a list of Lenovo's pros and cons.
Pros
1. Wallet-Friendly-Price. The Lenovo C40 is not a powerhouse. However, when it comes to simplicity, class and functionality, this C-Series model won't get left behind either.
2. Family-Friendly. Aside from the playable games in Lenovo's Education Portal, the C40 also offers visual notification and automatic brightness adjustment to protect one's vision. Among these are the Lenovo Eye Distance System and Dynamic Brightness System.
3. Space Saver. This all-in-one's form factor fits perfectly in small work spaces. The Lenovo C40 measures about 2″ at its thickest. Furthermore, everything is inside the screen panel.
4. Clean and Classy Design. One physical feature worth mentioning is its well-designed sturdy aluminum stand that allows screen adjustments within the -5 to 25 degrees range. For a clutter free work area, users could also go wireless so that what's left is the power cable.
5. Wireless Stock Peripherals. Although the wired Accutype keyboard and mouse are alright, it is unbeatable that Lenovo C40 equipped with wireless peripherals instead.
Cons
1. No Dedicated Graphics Card Upgrade Option. Lenovo's choice to stick with Intel HD Graphics may discourage video/image editors in considering the C40.
Verdict
The Lenovo C40  all-in-one desktop is a classy space saver with functionality that perfectly suits the family's needs. It doesn't matter whether it'll be situated in a small office or the busy kitchen. The C40 is the ideal solution for those with limited space or budget.
Specifications:
Intel Pentium 3825U Processor (1.90GHz 1600MHz 2MB)
Operating system: Windows 10
Display: 21.5″  FHD LED multi-touch
Hard Drive: 500GB 7200RPM
Memory: 4GB
Optical drive: DVD Recordable