Intel has just released its latest, 5th generation, more efficient version of its Broadwell processors. For a standard computer user, this may sound less exciting than launching a whole new line, but it actually means a much better computing experience on new machines.
What does more efficient mean in a processor?
For one thing, it means a smaller physical component. As parts shrink, it becomes easier for computer manufacturers to provide ultra-light, portable computers that can still run demanding programs. Processors have already been reduced to a very small size, though, so there's not likely to be a huge leap downward in size with each update.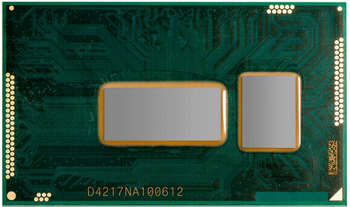 As far as immediate effect on consumers, efficiency means less power usage.
Obviously, a critical component using less power means a longer battery life for machines built with the improved processors.
Additionally, power flow is one of the factors that determines how hot a computer gets while running. Doing the same work with less power means a computer that is less likely to overheat or malfunction – and also less likely to get uncomfortable to work on or have to resort to a loud fan.
[gss-content-box]
Most popular laptops with the 5th Generation Intel Core processor:
Lenovo Y40-80 gaming laptops -Intel Core i7-5500U >
Lenovo Yoga 3 14 MultiTouch – Intel Core i5-5200U >
HP Pavilion – 15 Laptops – Intel Core i5-5200U >
HP ENVY – 15t Touch RealSense Laptop – Intel Core i5-5200U >
[/gss-content-box]
How efficient are Intel's new 5th generation processors?
With Intel's basic integrated HD graphics, the recently released cores can run on just 15 Watts.
Since the previous generation of processors was already able to deliver up to 15 hours of battery life on computers that focused on power efficiency, it's easy to see that these new cores will allow users to spend more time than ever without having to plug in.
The integrated graphics cards on the Intel cores have improved as well. Both their basic HD graphics and their more elaborate Iris graphics will be compatible with DirectX 12 and support OpenGL 4.3 and OpenCL 2.0.
And while Intel does not manufacture the computers themselves, they do work with software companies to create even better tools. In this case, they've been working with motion control engineers and Dragon voice recognition, one of the most lauded voice recognition programs currently available.
Along with new processors for PCs, Intel is also pushing out the new Atom line of processors for tablets. There are fewer details available as of yet on these processors, but Intel promises they will have many of the same improvements as their PC cousins.
Because Intel has been working directly with manufacturers, consumers can hope to see more 2 in 1 ultrabooks and laptops using these fifth-gen processors soon. Anyone who likes the newest and best should be very excited to see what companies are able to do with these powerful new components.