The Lenovo A740  is a sleek-designed, powerful All-in-One desktop PC.
Considered as one of the first of its kind, this Lenovo computer is often compared to the Mac's 27-inch Apple iMac and HP's Z1. To begin with, the A740 supports a 10-point  multi-touch screen. The only setback was Lenovo's decision to opt for the HD MVA 1920×1080 resolution compared to Mac and HP's 2560 x 1440 display.
[gss-content-box] Weekly deals & ecoupons for the A740 desktop:
SEE ALL MODELS >
[/gss-content-box]
Nonetheless, this computer is still hailed as one of the slimmest AIO with a screen thickness of approximately. And although it's heavily attributed to the fact that the A740's screen is mounted on top of its base containing some of the computer's parts, its flexible design is stable enough for touch-intensive usage.
Connectivity
The Lenovo A740 desktop doesn't come short when it comes to connectivity. On the rear of its base are four speedy 3.0 USB, HDMI ports and 3.5mm jacks for the microphone and headphones.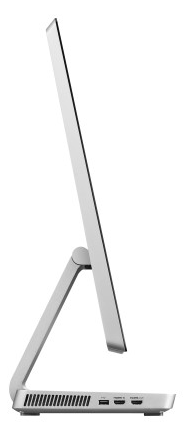 High powered AIO A740 sports an inpressive 4th Generation Intel Core i7-4558U processor.
Moreover, this 2.8 GHz quad-core processor supports hyper-threading on about 8 virtual cores and can be overclocked to 4 GHz. The NVIDIA GeForce GT840A 2GB graphics card may also be a mobile version but has certainly proven its capability to play most modern games with ease at decent settings.
Among the ones tested with the Lenovo  A740  are Dirt 3 and S.T.A.L.K.E.R: Call of Pripyat.
Adjustability and Flexibility. The Lenovo A740's FHD screen is mounted on a flexible and stylish-looking chassis.
The fluidity of its design is definitely something worth admiring.
This AIO's 27-inch screen can have its height adjusted effortlessly with one hand. The stand was built in such a way that it not only looked great but was also easily adjustable. Lenovo did not stop here though. They made sure that the A740's display can be flattened at a 180 degrees angle to function like a tablet.
Accessories
While the touch screen may suffice, the Lenovo  A740 also comes with a wireless laser mouse and keyboard. The ambidextrous mouse uses a laser sensor and is compact with its wireless dongle storage located at the bottom.
This micro USB dongle both connects the mouse and the keyboard to the pc. It can run with the use of a single rechargeable AA battery. The keyboard, on the other hand, is quite a marvel, so to speak.
It's considered as one of the better non-Mac counterparts with its sleek aluminum case and contrasting black keys. Even the placement of the battery compartment was carefully designed to minimize its impact on the premium look of the keyboard.
 Pros of the Lenovo A740 All-in-One Desktop
Premium Design and Sturdy Build. Even with its sleek aluminum chassis and frame, it also doesn't lack short of functionality for professionals, students and even gamers.
Great find for a reasonable value. Relative to its price, the A740 is packed with an 8GB RAM and an Intel Core i7 processor to perform well even with memory-intensive software.
A 10-point multi-touch screen built with an anti-glare to provides a wider variety of viewing angles and maximum playability whether used as a tablet lying horizontally flat or a traditional personal computer.
Cons
Other than the fact that it's not cheap and that its 1920×1080 screen doesn't compare to its 27-inch AIO contenders, the Lenovo  A740  is a great computer.
No optical drive on all models.
Conclusion
It's no surprise that even with the A740's shortcomings, it's still a highly-rated All-in-One desktop PC. The 10 point multi-touch function and the adjustability of the screen alone is a big plus for users who wish to experience the full power of an AIO pc built with a premium design capable of withstanding touch-intensive usage.