The HP  Slimline 260 desktop has the power and features comparable to an entry-level notebook at a cheaper price.
This new small form factor breaks away from the traditional full-sized tower so users won't have a hard time seating it in small areas.
As a Slimline member, consumers expect it to have a decent overall performance while maintaining a compact figure.
[gss-content-box] Weekly deal for the 260 desktop (product #V9A77AA#ABA_PC):
[/gss-content-box]
HP Slimline 260Desktop Overview: Working Reliably on a Compact PC
Build and Design
One thing's for sure, the HP Slimline 260 desktop won't blow anyone away with its physical looks. In fact, it would be more appropriate to brand the Slimline a minimalist's ideal CPU- not to mention that it only comes in one color.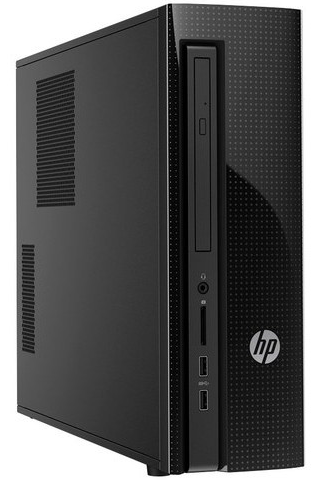 The sleek design can be attributed to its curved-edge appearance and stylish front panel. As mentioned earlier, it's not a gamer's dream case but rather a clean and trim chassis that'll effortlessly blend in any room it's placed at.
Ventilation systems located at the top and left panels so storing it behind a desk won't be a problem. With a chassis that's less than half the size of a traditional PC, users won't have any problems fitting this into a room with limited real estate.
This said, the HP Slimline 260 desktop is only capable of accommodating two disk drives (1 bay is for 5.25″ and the other is for 3.5″).
Performance and Graphics
Though the HP Slimline 260 desktop isn't running with the  high end  processors, this in no way stops it from showing flawless video streaming and graphics editing.
The Intel Core i3-6100T processor fast enough for everyday  computing tasks.
Connectivity
Unlike the majority of this line, the HP Slimline 260 desktop does come with two USB 3.0 ports at the front panel. Four USB 2.0 ports are located at the back along with Ethernet, DVI, and Audio jacks for the subwoofer, rear and side speaker, audio line-in and line-out and microphone.
Finally, a 7-in-1 multimedia card reader is situated at the front. To further encourage users to go cable-less, an 802.11 b, g, n wireless LAN is highlighted in this CPU. It operates at 2.41GHz and supports WPA and WPA2-PSK Windows security protocols.
See all HP Slimline 260 Desktop models >
Pros and Cons of the HP Slimline 260 Desktop
The HP Slimline 260  may not come with the gaming raw power nor will it have the flashiest chassis. Nonetheless, this CPU will serve users well in terms of productivity, everyday computing tasks, and entertainment. The list below summarizes the 260's pros and cons.
Pros
1. Compact Small Form Factor (SFF). Desktops nowadays are taking less and less space in our homes. This is due to the emergence of cost-friendly laptops and all-in-ones. This machine will blend perfectly to its surroundings may it be on top of a counter or a small office table.
2. Very Quiet. Lack of noise from fans or processors makes this unit the best desktop per price in the industry.
3. Built-in Wireless LAN Connectivity. The customizable HP Slimline 260 desktop's stock keyboard and mouse may be wired, but users are readily given the option to go wireless. This also means that one has the choice to choose between LAN and Wi-Fi for their local and internet connection.
4. Spacious Storage. Users will have plenty of room for their multimedia files with the up to 1TB hard drive the HP is built with.
5. Reasonably-Priced  SFF Desktop. Potential owners will be happy to learn that the Slimline 260 is priced right for its compactness and decent performance.
Cons
1. Limited Graphics Support. Those who plan to do a little modern gaming will have to find another computer as the HP Slimline 260 desktop only comes with the preset Intel HD Graphics  integrated graphics card. Heavy gaming is almost non-existent.
2. Comes with Wired Mouse and Keyboard by Default. It's not that HP's accessories aren't good; it's just the fact that these two will have to take 2 out of the 6 USB slots.
3. No VGA or HDMI. This is, by far, one of the most disappointing drawbacks the HP Slimline 260 desktop has. The absence of regularly used VGA and HDMI ports bounds this CPU to DVI.
Verdict
Compact, simple and sophisticated are just some of the standout attributes the HP Slimline 260 desktop has. Don't be deceived by its size though. The 260 will meet one's basic computing needs without burning a hole in the wallet.
Therefore, it's a perfect match for budget-conscious consumers with limited computer space such as dorm students or business office.
Quick Specifications:
Operating system: Windows 10
Processor: Intel Core i3-6100T (3.2 GHz, 3 MB cache, 2 cores)
Optical Drive: Ultra Slim-tray SuperMulti DVD burner
Memory: 8GB
Hard drive: 1TB 7200 RPM SATA 6G 3.5
Product #V9A77AA#ABA_PC
CLICK TO SAVE >
Related Articles
HP ENVY 850qe: Exceptional Performance and Effortless Customization
HP ENVY 750xt: Excellent Performance & Great Value
HP ENVY 24-n014 All-in-One PC:Touch Functionality in a Compact Build
Best New and Powerful HP Laptops