The HP ENVY All-in-One Desktop – 27 all-in-one customizable desktop is slim, sleek and a worthy contender for the rapidly rising number of touchscreen technology gadgets and devices. This computer showcases the latest Windows 10 operating system and all its highly sought after attributes.
[gss-content-box]  Save with weekly deals & coupon codes on the HP ENVY All-in-One Desktop – 27:
[/gss-content-box]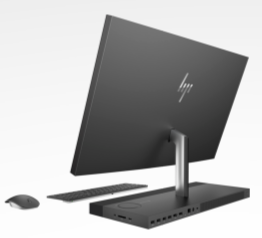 Build and Design
An outstanding feature of the HP ENVY All-in-One  is its physical compactness. Furthermore, this touch model can be adjusted to free up even more space in a limited work area.
Users will also be able to enjoy its clutter free design as only a single wire is necessary to power the entire system up. Build-wise, HP's AIO goes beyond what's expected of it.
This ENVY 27-b015qe model sports a 10-point touch-enabled  27″ (diagonal) widescreen QHD display to manipulate content and enjoy touch functionality at its best.
Performance and Graphics
Not much can be said with the 27″ HP ENVY  All-in-One – 27-b010tse desktop other than the fact that it runs the 6th generation Intel processor and a base RAM of 8GB. With a maximum allowable memory of 16GB, this All-in-One computer is built with 2 SO-DIMMS slots for future upgrades.
Enjoy watching movies, videos or simply viewing photos with its 27″  QHD display. HP's famous Bang & Olufsen audio allows users to experience rich textured, studio-quality audio to further enhance the multimedia environment. Those who are into more graphic-intensive projects and activities can opt for an AMD R9 graphics card.
Connectivity
Some connectivity options the HP ENVY All-in-One Desktop – 27 comes with the 4 USB 3.0 ports, 2 USB 2.0 (rear), LAN, HDMI and a 3-in-1 multimedia card reader. Premium wireless LAN and Bluetooth comprises the wireless options. The HP ENVY All-in-One also comes with a wireless keyboard and optical mouse.
Pros and Cons of the HP ENVY All-in-One Desktop – 27
The HP ENVY machine is a sight to behold. It's bold and beautiful. Nonetheless, this HP ENVY model still has its own shortcomings. The list below summarizes its pros and cons.
Pros
1. Compact Build. The HP ENVY All-in-One Desktop – 27 computer  is perfect for work areas where space is limited. Consumers can adjusted to save up more space.
2. Clutter Free Design. Makes it a point to offer a primary laptop convenience- single wire power-up.
3. Full Windows 10 Touch Functionality. Users who would like to take advantage of the sight and feel of Windows 10 will enjoy this particular widescreen all-in-one because of its edge-to-edge, highly responsive glass display.
4. HP ENVY Perks. The ENVY comes with all the HP ENVY line perks such as  HP Magic Canvas, HP Connected Music, HP Connected Remote and more.
Cons
Few Connectivity Ports. A most disappointing aspect of this particular HP AIO is its lack of graphics customization. The graphics on some models limited through only integrated can end up frustrating others.
Verdict
The customizable HP ENVY All-in-One Desktop – 27 is aesthetically pleasing and compact. It's perfect for work areas with limited space. Purchasing this computer should be especially considered by consumers who are interested in the Windows 10 touch interface, have small work areas or simply into HP products.
Quick specifications:
Processor: up to 6th Generation Intel Core i7-6700T quad-core processor [2.8GHz, 8MB Shared Cache]
Graphics: up to NVIDIA GeForce GTX 950M (4 GB GDDR5 dedicated) Intel HD Graphics 530
Operating system:  up to Windows 10 Pro 64
Memory: up to 16GB DDR3-1600MHz
Hard Drive: up to 128 SSD + 1 TB HDD storage
Dimensions: (W x D x H): 25.7 x 7.95 x 19.3 in
Price starts from $1149 >