Desktops are still very popular choice because you can have a large monitor (up to 30") and they have a greater expandability to compare to laptops, which makes their life longer. Buying HP desktop can save you money. If you compare laptop with the same capabilities, desktop PC would be less expensive.
HP is known for making some of the best computers in the world. It is a great brand and has a lot of options for every type of computer user. Based on our research, we have found the five best HP desktop computers for a variety of computing needs.
– up to 4th Generation Intel Core i7-4790K processor quad-core [4.0GHz, 8MB Shared Cache]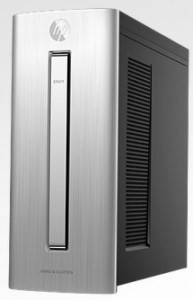 – 12GB memory, expandable to 32GB
– 2TB hard drive, upgradeable up 512GB 3D SSD
– up to 6GB Nvidia GeForce GTX 970 graphics
– 2 -year warranty
– Product# N0X13AV#ABA_1
The most popular, best-selling, high performance HP desktop. The fast 4th generation Intel Core i7 Processor  will let you run several applications in the same time. Regardless of what you use this machine for, it will be up to your multi-tasking needs.
It has high-end graphics for gamers, USB 3.0 ports for fast data transfer and a huge amount of memory for your files and programs, making this a great machine for gaming, business, or entertainment. Read more >
Price starts from $629 >
– Processor: up to 4th Generation Intel Core i7-4785T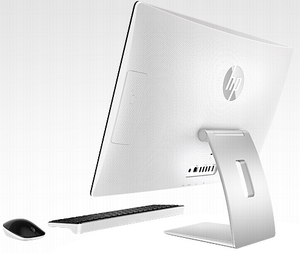 – Memory: up to 16GB
– Operating system: up to Windows 8.1 Pro 64
– Hard drive: up to 3TB 7200 rpm SATA
– Graphics: 2G AMD R7 A360
– DTS integrated studio quality sound
– Optical drive: up to Blu-ray Writer null DVD burner
– Model: 23-q170se
– Product# N0X21AV#ABA_1
The new modern beautiful design, fast Intel Core processor, and spacious hard drive make this HP desktop the best for everyday use. This choice will give you the best value for your money-powerful with great expandability.
Price starts from $779 >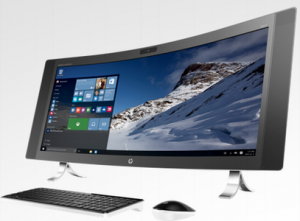 – Processor: Intel Core i5-6400T (2.2 GHz, up to 2.8 GHz, 6 MB cache, 4 cores)
– Memory: expandable to 16GB
– 1TB 7200rpm hard drive
– Display: 34″ curved diagonal widescreen WQHD LED-backlit (3440 x 1440)
– USB 3.0 ports
– 1-year limited hardware warranty support
– Product# M9Z77AA#ABA
If you like to keep things easy and save space, this PC would be right for you. This premium, All-in-One HP desktop with modern design and curved  display would satisfy any modern taste.
Price starts from $1549 >
– up to 4th gen Intel Core i7-5960X processor octa-core [3.0GHz, 20MB Shared Cache]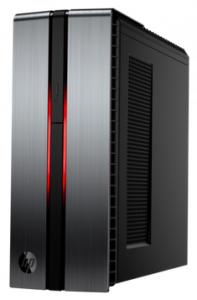 – 12GB memory, expandable to 32GB
– up to Windows 10 Pro operating system
– up to 512GB SSD
– up to 4GB Nvidia GeForce GTX 970
– up to Blu-ray Reader & SuperMulti DVD burner
– 1-year limited hardware warranty support
– Product# N0X16AV#ABA_1
– Model: 860-160se
Do you love games? This HP desktop-stylish top of the line gaming computer with extreme speed and incredible performance and expandability- is exactly what you need.
–  Processor: up to 4th Generation Intel(R) Core(TM) i7-4790 quad-core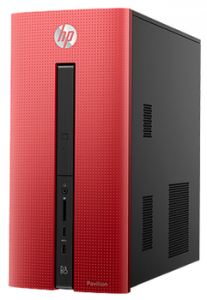 – 8GB memory, expandable to 16Gb
– 1TB hard drive, upgradable to 2TB
–  Operating system: Windows 7 Pro 64
– Ports: 7-in-1 Media Card Reader, 2 USB 3.0 ports, Audio
– Graphics: up to 4GB Nvidia GeForce GT 730
– Product# N0X11AV#ABA_1
This computer's stylish appearance and space-saving design –only half the size of a regular tower- mean that this HP desktop will suit any office. It has perfect expandability for very affordable price. This HP Desktop can be very suitable for both home and work use. If you care about quality of sound, this would be a great choice for you.
Price starts from $449 >
Conclusion
All of the HP desktops we chose are powerful computers featuring the latest Intel Core processors. Excellent expandability options make them the best buy for your money.
Impressive amounts of memory not only help the computer to run faster, but allow you to store all your data-files, pictures, music, games- as much as you can imagine. Great connectivity features makes it easy to transfer your data both over the internet and with portable storage devices.
Whether you are looking to replace an old PC or buy your first big computer, one of these HP desktops will make a great addition to your home.