HP EliteDesk 800 G1 Review: Maximum Performance Tailored for Small Spaces
The HP EliteDesk 800 G1 is HP's newest and smallest addition to its mini form factor line-up of business computers. Although built to cater every company's enterprising needs, the EliteDesk will work perfectly fine in the home setting. These are some of the reasons why.
[gss-content-box] Save $670 off retail price ($1299) plus get FREE shipping on the HP EliteDesk 800 G1 Ultra-Slim Desktop PC Core i5 – 4GB – 128GB SSD
Price from $299 + FREE Shipping 
CLICK TO SEE DEAL>
[/gss-content-box]
The Space-Saver
Dispite the tough competition, HP has continued to provide its small, medium, and large entrepreneur clientele more cost-effective, space-saving computers.
As Daron Chalk mentioned in one of his interviews, IT budgets aren't getting any bigger. Office spaces are getting smaller, and large towering central processing units are no longer a viable option in those areas.
To accommodate modern requirements, the HP EliteDesk 800 G1 is fitted into a small case that's easily mountable, courtesy of its integrated VESA mounting system.
Easy-Upgrade and Parts Replacement
Due to space limitations, some companies have switched from the conventional desktop to laptops. This, however, limits the possibility of upgrading and customizing parts and components necessary for long-term use.
With the HP EliteDesk 800 G1 ultra-slim desktop, even the most novice of end-users can do it. All it takes is the removal of a single thumb screw and the top comes off easily.
Extra Memory and Storage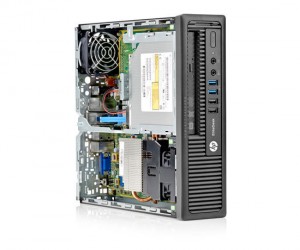 So perhaps the million dollar question is: can the HP EliteDesk 800 G1 memory, video card and hard drive be upgraded?
The answer to all three is yes.
Just like its "pizza box" counterparts, this model has an mSATA connector for additional storage. If that's not enough, users can replace the DVD-ROM with a normal 2.5" SATA HDD. As for the additional demand on graphics, the discrete ATI card is will be working hand-in-hand with the integrated Intel HD.
For hot swapping, potential owners should definitely consider getting HP's removable HDD carrier and frame as an optional add-on.
Software and Hardware Security
Up-front, the EliteDesk family is armed with a myriad of security features – from management applications such as Intel vPro and HP Client Security to localized elements such as HP Password Manager and HP BIOS Protection.
To top it off, HP also provides hardware security features. For instance, the EliteDesk 800 G1 has a sensor that can alert the IT department or the person-in-charge if the desktop's lid has been tampered with or popped open.
The Power-Saver
Forget about the generic 19-watts laptop. The HP EliteDesk 800 G1 runs on 8 watt of power. Thanks to the latest Intel Haswell processors, it now consumes less energy, thereby decreasing total cost of ownership.
Also, since lower power consumption goes in tandem with less heat, parts and components are more likely to last longer.
Things to Consider before Buying the HP EliteDesk 800 G1 Ultra-Slim Desktop PC
HP launched the EliteDesk to compete with the likes of Lenovo's ThinkCentre M Series (Tiny M92) and Q190, Asus's Republic of Gamers Z20 and Acer Aspire X 603. Below is a brief summary of why this USDT can fend itself against this lot.
1. Installed 128GB solid state drive to improve desktop performance to make applications load faster and for an incredibly faster boot time (about 50%). The SSD is more durable to compare to a traditional hard  drive.
2. Tool-less serviceablity. Parts replacement and repair starts with the effortless removal of the back screw.
3. Low power consumption. This ultra-slim box-shaped PC consumes 8 watts of power. This means cheaper electric cost in the long haul.
4. Space-saving. The EliteDesk 800 G1 has the length and width of a pencil. Its size is comparable to an average person's spread-out palm.
5. Too many ports to mention. HP didn't stop with 6 USB ports; the EliteDesk ultra-slim desktop has 3 display ports and an Ethernet LAN.
Users can share their Internet with wireless devices thanks to Wi-Fi Hotspot. Integrated Wi-Di features are also available for screen sharing.
6. Upgrade-friendly. Apart from being serviceable–even with the absence of a screwdriver to open it, this computer is still just a compact desktop with closely-spaced parts. Users can swap the DVD-ROM with a SATA hard disk drive and upgrade the memory by inserting up to 16GB of RAM on the free memory slot.
If there's one thing that's always a deal-breaker in compact and portable PCs, it's the GPU limitations. Fortunately, the HP EliteDesk 800 G1 ultra-slim desktop computer can be upgraded with an AMD Radeon HD graphics card. Shortcomings for this device are nearly non-existent.
Verdict
Being tiny, the HP EliteDesk 800 G1 avoids taking up unnecessary space. Due to its new innovations, this PC doesn't have to be encased in a large, towering unit to pack tons of functional features.
In fact, the EliteDesk 800 G1 is one of the smallest computers that are capable of catering to three separate displays (four, if Wi-Di's included), 6 USB connections, and wireless internet sharing to other devices.
Upgrade its video card, RAM, and storage, and it's all set for video-editing, gaming, and even some intensive programming for a very long time.
Specifications:
Form factor: Ultra-slim desktop
Warranty: protected by HP Services 3-year parts, 3 years labor, and 3 years onsite service (3/3/3) limited warranty
Processor: 4th generation Intel Core i5 – 4570S 2.9 GHz quad core up to 3.6GHz with Turbo Boost Technology 2 and Intel v-Rro technology
Operating system: Windows 7 Professional 64 (available through downgrade rights from Windows 8.1 Pro)
Pre-installed: Windows 7
Memory: 4GB memory expandable to 16GB PC3-12800, 1600 MHz DDR3 SDRAM 204pin
Storage hard drive: 128GB SSD Serial ATA-600
Optical drive: Slim SATA DVD-ROM
Graphics: Intel HD Graphics 4600
Intel vPro technology
Intel Gigabit Network Connection
Dimensions (w x d x h): 9.9 x 10 x 2.6 in (25.1 x 25.4 x 6.6 cm)
Weight: Just 6.8 lbs (3.1 kg)
Click to save on the HP EliteDesk 800G1 >