How Chatwing Chat software can help increase your websites marketing and monetization efforts.
Many of us nowadays, take chatting simply for granted. Chatrooms in all sizes and forms can be found scattered all over the internet, most of it very easy to gain access to.
That's why the idea of putting up one in a site is mostly set aside by site owners in order to make room for other web tools or ad space.
However, there is one chatroom every site owner would likely not want to miss embedding it on theirs as it can provide more than the capability to chat while inside the site – Chatwing.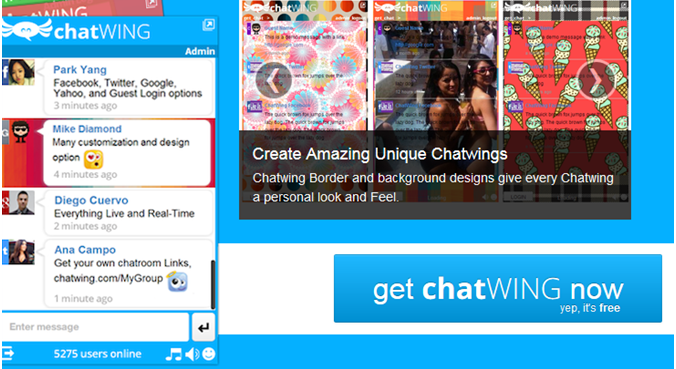 This chat app has many features that compliment its chatting capabilities, making it one of the most sophisticated chatting tools ever made.
Setting it up is a breeze and once done, it'll act as a more direct method of communication the viewers can use while inside the site.
However, with its features like chatroom customization, it becomes more than that and turns into a place where the viewers can chat and be entertained at the same time.
The vastness of the customization options is the key to Chatwing being so unique in terms of appearance – the user can basically turn his chatroom into something that can easily fit his preferences or the theme of the site.
Customization allows the modification of the fonts to be used, the overall color and appearance of the chatroom, other rich text formats and more.
This gives Chatwing more than an edge over the other chatrooms and this could work greatly in favor of the site.
Virtually turning the chatroom into an eye-candy will make it more engaging and fun for the viewers that they would love using it than not – the user can even play music while inside the chatroom while he's at it. And by giving that kind of experience to them, they'll surely come back for more.
As anyone will say, more people mean more potential profit. This is entirely true especially for sites with a pay per view ad on them.
For this matter, having Chatwing on their site will definitely work to their advantage as it can make the viewers come for a second time around, increasing the pageviews of that particular webpage significantly. Put in some PPV ads in there and they'll get a perfect marketing strategy in action.
Another way of benefiting Chatwing is by using it as a tool to relay credible information to the chatters. The chatroom is very accessible to anyone with a social media like Facebook and Twitter.
This also means it can be targeted by spammers, exploiting it for their own purposes. However, their efforts can be for naught with Chatwing's security measures.
The user can easily manage the chat room by preventing these kind people from using it and deleting their messages that can easily tarnish the hard-earned reputation of his site.
The word filter can also be applied to prevent rude comments and profanity inside the chatroom – they'll still be typed in but are censored. This can be used to prevent any outburst from disrupting the flow of conversation within the chat app.
By delivering quality conversations with the viewers about the products, the site owner can use that opportunity to advertise it with them. And since it's a group chatroom, the others are also benefited with that credible information and the site owner with more potential clients.
Chatwing is a chat software that can do all that for a very affordable price – it's free. So for those site owners looking for a chatting tool to use, they might want to try these before anything else.