FREE shipping plus save up to $200 on the Dell Inspiron 13 7000 Series 2-in-1 Touch laptop.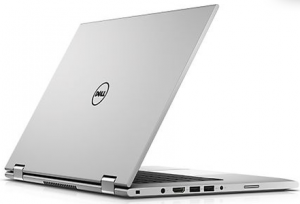 CLICK TO SAVE >
Quick specifications:
Processor: up to 6th Generation Intel Core i7
OS: up to Windows 10 Home
Memory: up to 8GB
Hard Drive: up to 1TB 5400 rpm SATA3 HDD
Display: 13.3-inch FHD (1920 x 1080) Truelife LED-Backlit Touch Display with Wide Viewing Angle (IPS)
Battery life: up to 6 hours
Weight: 3.66 lbs (1.66kg)
Pros: great speed and performance, quite fast boot time, large memory, more than enough processing power, a fantastic aptitude for game playing, extremely reasonable pricing, excellent quality sound, brilliant HD screen colours are fantastic, very responsive touchscreen. The tablet hinge feels and seems very sturdy, no ports on behind of machine. The Dell Inspiron 13 7000 Series itself is wonderfully lightweight and durable.
Cons: ports feel a bit stiff, screen sometimes creaks when opening/closing.
The easy to use Dell Inspiron 13 7000 Series 2-in-1 Touch laptop is a very well built and fast computer, all the features work well and the laptop is simply enjoyable to use. Very strong speakers, crisp display and one of the best keyboards I have ever used on a laptop. Keys are extremely quiet and solid with great travel distance.
The casing, although plastic, feels very nice and premium.
Battery life so far has been decent, averaging about 6-7 hours while browsing the internet and word processing.
It is wonderfully light. The hinge appears to be as sturdy as any laptop and the 360-degrees options are great.
The other brand that offers a similar model is much more expensive and does not have a full-size HDMI port.
[auction-nudge tool="listings"]