Nothing goes unnoticed with Hewlett-Packard. From head-turning designs to budget-friendly prices, consumers have certainly considered getting themselves HP laptops.
Elegance, sophistication, and powerhouse performance are just some of the descriptions linked to the HP brand. For instance, the HP ENVY is known for its portability and powerful capability. On another hand, HP Spectre  models are famous for their sleek form factor and premium design inspired by the latest sports car models.
And with HP innovations, owners get exclusive benefits for simply having chosen the brand. Technologies such as HP SimplePass, HP CoolSense and HP ProtectSmart are just some of the many perks for picking HP.
HP's Cream of the Crop
With so many HP laptops to select from, it's always a good decision to come informed. So with no further ado, here are some of the best HP ultrabooks and notebooks there is.
Nothing short of being physically beautiful, the customizable HP Envy x360 -15t  hybrid 2 in 1 laptop/tablet
comes with the latest  6th generation Intel Core i5 or i7 processors and a bright 15.6″ Full HD WLED-backlit touchscreen (1920×1080) display . Hybrid PC mean – 2 in 1 design, the notebook you need becomes the tablet you want.
This said, the  HP ENVY x360 is a great premium HP laptop for those who are particular of sticking to a mobility while in need of a high-powered processing system. Read full review >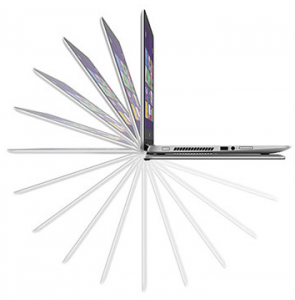 PROS
–  Full (1920×1080) HD touch display
– Premium modern design
–  Full size keyboard
– Great sounding Bang & Olufsen speakers
– 8GB memory
CONS
– No optical drive
– Not too long  battery life – only 7 hrs
Like the dv7t, the HP ENVY 17t laptop is built with an aluminum chassis. Rather than prioritizing portability, this ENVY notebook focuses on widescreen entertainment fit for home use.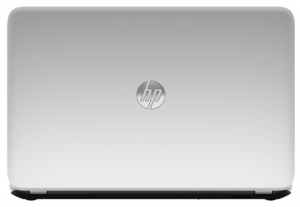 The 17.3″ diagonal FHD WLED-backlit  display is perfect for movie viewing and gaming. Highly recommended upgrades for the HP ENVY  include choosing the backlit keyboard and getting the 17.3″ Full HD (1920 x 1080) display.
Gamers can opt for higher graphics power by selecting a 4GB NVIDIA GeForce GTX 950M dedicated GPU. All in all, with the right set of upgrades to cater to one's personal preference, this laptop becomes the perfect desktop replacement at a great price.
PROS
– Solid Build – Fast Processing Speed with 6th Gen Intel Core i7 Processor + NVIDIA GeForce 940M Discrete Graphics
– Beautifull Full HD display
– Large Touchpad to Accommodate Windows 10 Gestures
– Relatively Slim and Compact for a 17″ Laptop
CONS
– Awkward Ventilation Placement
– No Option to Upgrade Display Resolution
When it comes to being fashionably functional, the HP ENVY 15t Touch certainly fits the profile. It's slim, sleek and beautiful in a sturdy, slip-free metallic sense.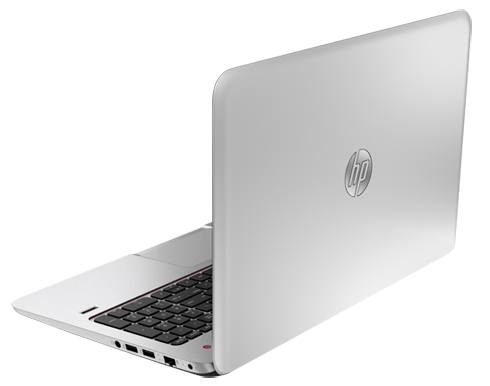 At 1.11″ thick (or more appropriately, thin), this ENVY ultrabook is one handy device. Weighing 5.74 lbs further reinforces this fact.
Don't be deceived by its physical appearance.
Whether it can perform is out of the question. Quick resume time is made possible with the help of Intel's Rapid Start Technology, not to mention that it runs with the latest 5th generation Intel Core i7-5500U processor.
Users could get full satisfaction with the graphics 4GB GB NVIDIA GeForce GTX 950M and 15.6″ Full HD display. Read full review >
PROS
– Standard 8GB memory, 1TB hard drive and Intel Core i7
– Perfect for business purposes and everyday use
– Lightweight and slim (despite being on the heavier end of ultrabook standards)
– Bright touchscreen display
CONS
– No VGA port to cater old display devices
The HP ENVY  14t laptop is a thin and lightweight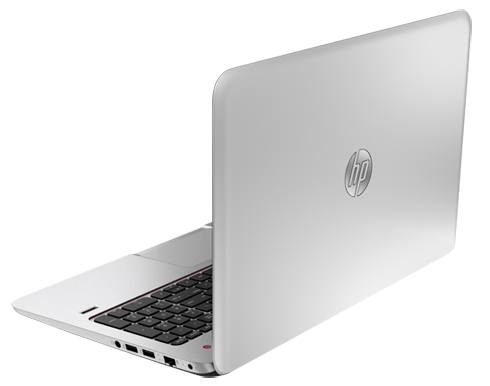 ultrabook that can pack a powerful punch. While the base configuration it may be limited to the Intel Core i5-6200U processor, this in no way hinders this ENVY model's speedy performance, when upgrade to Intel Core i7-6700HQ.
This model encloses its 14″ HD BrightView LED-backlit screen in a black-brushed aluminum chassis that's nothing short of impressive and eye-catching.
At the bottom, a soft-touch base makes this ultrabook handy and fit for travelers. Bottom line, the Envy 14t  is a solid machine with a good blend of features and performance.
PROS
– Smooth Windows 8 experience
– Highly responsive touchscreen display
– Good battery life averaged at 10 hours
– Memory expandability up to 16 GB
CONS
– Not so Impressive 1366 x 768 native resolution for the base model
– Poor recovery option
– Limited to Intel HD Graphics 5500 before upgrade to Core i7
Befitting its long name is a long list of positive attributes to describe the HP ENVY 17t Touch  laptop. From the term "striking" to "powerful",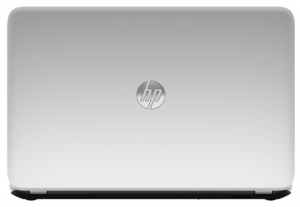 the HP ENVY 17t Touch  is all that and more. As the words high performance suggests, this notebook sports a 17.3″  (1920 x 1080) HD LED-backlit touch screen .
Not only does the bright display deliver crisp and clear graphics, but it's also well perform with 6th gen Intel Core i7 processor.
The HP ENVY 17t Touch sports an abundantly spaced keyboard which keeps typing for a prolonged time comfortable.
PROS
– Sophisticated and stylishly slim design
– Great sounding speakers with Beats Audio
– Optical drive
– Excellent performance with 6th Gen Intel Core i7-6700HQ Quad Core Processor + NVIDIA GeForce GTX 950M 4GB Discrete Graphics
– Backlit keyboard with numeric keypad
CONS
– Premium notebook but not for travel
– 5400 rpm Hard Drive – base configuration
Final Words
In the ultrabook and laptop industry, it's not enough to simply have a name. Manufacturers have to constantly think of innovations for enhanced user experience.
HP has been known to have continuously reinvented their products not only based on performance, design and portability but also with the intent of providing its users affordable computing systems with a wide range of customizations to accommodate each person's preference.
Related Articles
HP ENVY 700xt: Great Value Customizable Desktop
Toshiba Qosmio X70 – The Customizable Gaming Laptop