As Lenovo's 2016 CES season's flagship, the Lenovo Ideacentre AIO 700 24″  desktop is a first class all-in-one with the power to impress.
No longer bound to Lenovo's clunky design, the AIO 700 is a 23.8″ marvel that's supported by an aluminum body starting with its very base up to its adjustable hinges.
[gss-content-box] Weekly deals & ecoupons for the Ideacentre AIO 700 24″:
Compare all models >
[/gss-content-box]
Lenovo AIO 700 24″ Desktop Overview: The PC That's Perfect for the Entire Family
This model is considered a basic AIO with a maximum resolution of 1920 x 1080 px and a speedy performance courtesy of the latest 6th generation Intel Core i7 processor and NVIDIA GeForce GTX950A.
Build and Design
Fortunately for Lenovo lovers, the AIO 700 desktop has a 23.8″ super slim 10-point multi-touch screen sporting a polished look that some might even mistake for a Mac.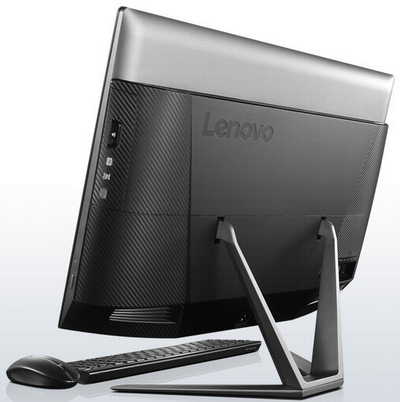 It is the slimmest 23.8″ all-in-one at about 0.9″ (24.5mm) thick- an irresistible feature when coming with a Hi-res multitouch with frameless option screen. The external optical drive will enhance your movie viewing experience.
What's more amazing about the Lenovo Ideacentre AIO 700 24″ is the consumer's choice for maximum resolution. From the dreaded 1920 x 1080 (typical to a majority of Lenovo's products), this computer comes with a 3840 x 2160 UHD resolution- perfect for entertainment purposes.
The A700's screen is adjustable between -5 to 90 degrees in order to enjoy maximized comfort with regard to viewing and multi-touch angles.
Performance and Graphics
Aside from having the option to run with latest Intel Core i7 chip, the Ideacentre 700 is available with a nice 2 GB NVIDIA GeForce GTX950A graphics.
This means that whether one is inclined to do some serious gaming or simply lounge around to enjoy a movie marathon, Lenovo's 700 is just plain perfect for whatever purpose it may serve.
Not into conventional use? The computer can also be utilized for reading digital books, playing multi-touch screen games from Lenovo's game portal, and swiping away on a Windows 10 platform.
Connectivity
Contrary to what you would expect from its limited size, the Lenovo Ideacentre AIO 700 24″ features an abundant port selection starting with 2 USB 3.0s, a 6-in-1 card reader, an HDMI-in and -out, a pair of mic and headphone jacks and finally, a full-sized Ethernet port.
Wireless options include a Realtek 802.11 a/c Wi-Fi, and an ergonomically- focused AccuType wireless keyboard and mouse.
Pros and Cons of the Lenovo Ideacentre AIO 700 24″
The Lenovo Ideacentre AIO 700 24″ may be the slimmest all-in-one out there, but it's not the cheapest AIO with a frameless screen. However, while it may not be as price-friendly, competing PCs don't have that "degree of freedom" this Ideacentre has. Below is a list of its pros and cons.
Pros
1. The frameless 10-point multitouch screen: The  desktop boasts a highly responsive screen that's fully-capable of handling 10-finger gestures with precision.
2. Freedom by degrees: Whether it is lying flat or standing straight, the Ideacentre 700 is the only all-in-one desktop that's capable of offering this and adjustments in between.
3. A one-stop entertainment hub: Thanks to its JBL Speakers, good NVIDIA graphic options and an external DVD drive, the Ideacentre AIO 700 is one powerful multimedia machine that's touch-capable.
4. Lenovo's Eye Distance System: While modern touch screens do emit less radiation than their predecessors, Lenovo takes it up a notch by flashing a symbol to let users know when their distance to the AIO causes eyestrain.
5. Clean and contemporary aluminum design: It may look like an iMac, but it proudly runs with the zippy Windows 10. When it comes to speed, the  computer won't be disappointment.
Cons
1. Not a cheap AIO: Beauty combined with power comes with a large payment.
2. Maxes out at 2TB + 8GB SSD: Perhaps to some, a terabyte would suffice for storing their data. However, users of the Ideacentre AIO 700 24″  would have to rely on the use of external storage devices for data requirements that exceed such.
Verdict
The Lenovo Ideacentre AIO 700 24″ desktop not only immerses its users in great and engaging entertainment, it also makes sure that the entire family can take advantage of it. From Lenovo's Education Portal to Game Portal, this AIO can be the entire family's workplace, leisure center and interactive learning portal.
Quick Specifications:
Processor: up to 6th Generation Intel Core i7-6700 Processor (3.40GHz 2133MHz 8MB)
Operating System: Windows 10
Optical Drive: External DVD Recordable
Hard Disk Drive: up to 2TB 7200 RPM + 8GB SSHD
Memory: 16.0GB PC4-17000 DDR4L 2133 MHz
Graphics: NVIDIA GeForce GTX950A 2GB
Display/Resolution: 23.8″ UHD IPS Multi-touch (3840×2160)
Weight: 16.5 lbs
Dimensions: 20.66″ x 17.25″ x 8.25″