Lenovo Legion Y720: One Great Upgrade
The Legion Y720 laptop has some of the latest and best hardware available. The difference between the Legion Y720 and its predecessors is enormous.
Lenovo has completely revamped this machine to make it beautiful, powerful, and customizable, the perfect media center, business laptop, or gaming machine. Here are just a few of its amazing new features.
[gss-content-box] This week's deals and eCoupons for the Legion Y720 Laptop:
[/gss-content-box]
Legion uses the brand new 7th generation Intel Core i7-7700HQ quad-core processor, and with customization of its dual graphics capabilities, it can display better than its NVIDIA GeForce GTX 1060 6GB graphics card alone, which is already an impressive piece of hardware in itself.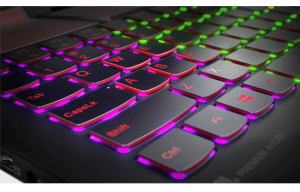 The JBL speakers add some great sound quality and volume as well, for movies or games.
The variety of Legion models allows users to customize their laptop's performance for their own needs depending on what they are using the laptop for at the time.
While performance is key when picking a laptop, it's always nice to have a machine that looks great as well. After all, you often use a laptop in public, so it's preferable to have a sleek computer that will draw envious glances than an awkward, bulky machine, even if the second option is also a good computer.
The Lenovo Legion Y720 delivers here as well, with a faux carbon-fiber lids that will be the envy of those around you. The multicolor keyboard is brightly backlit and gives a gorgeous contrast to the dark casing.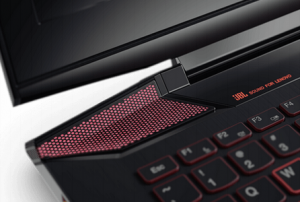 In addition, even the external design improves your user experience.
The 15.6" Ultra HD screen (with 3840×2160 resolution) has a matte surface to reduce glare in brightly-lit environments like airports or cafes with big windows, giving you a better view of your screen.
The RGB Keyboard will take some getting used to for most users, but it gives you more options, with ergonomic spacing and a full number pad right on your laptop- no more USB add-ons!
Connectivity
The Lenovo Legion Y720 has all the standard laptop connection options: offers Xbox Integration with WiFi Controller, USB and HDMI ports, as well as the obvious audio jacks.
However, it does have some standout features, primarily that Bluetooth 4.1 is included in the package and that it has a USB port that will keep charging your devices even when you aren't using your computer alongside its 3 USB 3.0 ports for data and its card reader.
It also has a built-in 720p camera, so you don't have to worry about occupying one of those USB slots with a webcam during video chats.
Pros and Cons of the Lenovo Legion Y720
In summary, the Legion Y720 is a pretty amazing machine, and when it stands next to the rest of Lenovo's lineup for the year, it is easy to see that this company has really stepped up their game. Here are the chief pros and cons of this great new laptop.
Pros
• The variety of models. This feature is what really sells this computer to me. Different people have different needs for their laptops, and the same person can even need different things from their computer at different times, especially if it is being shared amongst a family.
The ability to choose in hard drives, graphics, and even memory depending on the user's requirements makes the Legion Y720 one of the most flexible laptops around.
• The power. You can't argue with the latest 7th generation Intel processor, especially when combined with the ability to add more power as you see fit.
• The display. Having a AntiGlare Backlit screen surface sounds great. I know I suffer a lot of glare problems even in my own home from my current screen, so it's easy to see how this feature could be a great improvement. The 3840 x 2160 Ultra HD is nothing to sneeze at, either.
• The appearance. Hey, it's nice to have a nice-looking machine. The black finish is gorgeous and durable, and the RGB zoned backlit keyboard is not only beautiful but useful, making this computer as suitable for dark environments as the matte screen makes it for bright ones.
• The sound. A lot of laptops falter in the sound department, so the crisp, clear audio is a pleasant surprise and further makes this a great gaming or viewing laptop.
• The price. For its combination of large power and small size, the price tag on the Lenovo Legion Y720 is surprisingly low, making it a great deal.
Cons
The computer lacks a Num or Caps Lock indicator, which could again be a problem for some users.
Conclusion
The Lenovo Legion Y720 is a great gaming entry-level new laptop. It's certainly a huge improvement on the Y700-series machines that came before it.
Between its great basic hardware and design and the ability to customize it to your needs, it can serve as an excellent machine for businesspeople and gamers alike, making it one of the best new laptops for families or for people who want to use their laptop for all their computing needs.