The term 'outflex' has been coined too often when talking about the Toshiba Satellite Radius hybrid laptop.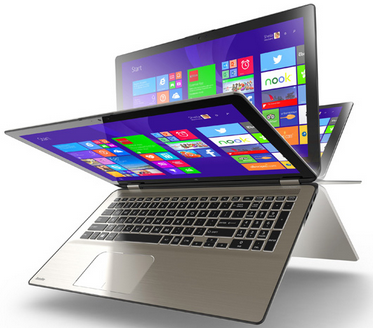 This new consumer product from Toshiba is the first of its kind, sporting a maximum 15.6-inch touchscreen while having dual hinges that allow 360-degrees of flipping and folding.
Like the Lenovo ThinkPad Yoga and the Lenovo Yoga 3, this clone's intention is to provide a bigger, better, and more functional laptop-hybrid that will contend with brands like Asus, Dell, and Acer.
[gss-content-box] This week's deals for the Toshiba Satellite Radius (no coupon code required):
[/gss-content-box]
The Student's Sports Car
Over time, Toshiba has been known for creating durable and long-lasting laptops. Unfortunately, this description has also been paired with term 'old-school', just like Dell's Inspiron line.
Toshiba Satellite Radius Overview
To erase that facade, the giant company came up with the Toshiba Radius, built to showcase a 360-degree sturdy hinge, a sleek brushed aluminum finish, a full black island-type backlit keyboard, and a 1080-p resolution in black bezel. And this beautiful package comes at a very reasonable price.
As Carrie Cowan mentioned, they are now veering to the mobile workers—particularly young professionals and students working on media presentations on-the-go. Moreover, the Toshiba Senior Product Marketing Manager added that the Radius is a "high-end convertible laptop" targeted to come out during the back-to-school season.
With its budget-friendly price, unparalleled flexibility, and workhorse performance, it's a win-win for consumers looking for a Yoga that's not a Yoga.
The Highly Improved Yoga Clone
Being first has its own perks; it can be used as a basis for much-needed improvements. Except for Apple and Samsung, many of the industry's forerunners have decided to release contenders to Lenovo's 2012 Yoga.
Since Toshiba launched the Satellite Radius late in the game, this laptop-hybrid was created with much thought on ergonomics, portability, and usability in different scenarios. Its apparent manifestation begins with the Satellite Radius' rubber ridges; there were specifically designed along the edges to avoid damaging any surface it's placed on.
Unlike the Yoga, which has four modes, the Radius has five: laptop, tablet, presentation, audience, and tabletop. Aside from outnumbering its features, the Radius adds a little extra by having the capacity to be flipped at whatever angle the user may fancy.
So, it may lack the ability to hide the keyboard like the Dell XPS12 or retract it like the ThinkPad Yoga. Then again, Toshiba was smart enough to place magnets at the back of its chassis to secure the lid in tablet mode. Moreover, the Satellite Radius' innovative hinge system tightens up to give the device a firmer stance on certain modes.
More Tricks up its Sleeves
If having an ultra HD (3840×2160) HDMI output didn't make a good impression, then a highly responsive 1920×1080 touchscreen should. Vibrant colors on the 15.6″ Toshiba Satellite Radius are obtained by having an options to upgrade to a 4K Ultra HD display with the resolution (3840×2160, 300NIT).
Compared to the Lenovo Yoga 14-inch laptop, the Radius will be fashioned with the latest Intel Core i5 Broadwell  processor and a satisfying 750GB hard drive. Harman Kardon speakers and DTS Sound will rock any media playback with crisp, clean sounds coming from movies, games, music, and even presentations.
Wireless connectivity should also be a walk in the park. Not only does the Satellite Radius sport the latest Bluetooth v4.0, it also runs with 802.11 ac.
Choosing the Toshiba Satellite Radius: Pros and Cons to Consider
It's already obvious that the Toshiba Radius is not just the typical Yoga clone. In its attempt to prove its worthiness as a 360-degree flip-and-fold laptop, the company incorporated some ergonomic and well thought-out adjustments on it.
The following are just some of the Radius' pros:
1. Solid Performance for a Portable Device. Unlike most bendable hybrids, this 14-inch contortionist will sport a 5th generation Intel Core i3 processor, thereby allowing the effortless creation of presentations and media files.
2. Stunningly Stylish Aluminum Chassis. Like a sleek, modern sports car, Toshiba is catching up with the new generations' demand in slim and elegant design. Its brushed metallic finish is balanced with black keys, black bezel, and black rubber ridges along its edge.
3. Excellent Hinge Mechanism. To build a solid hinge system can be a challenge, especially if the laptop-hybrid requires 360-degrees of freedom. This is one of the many things the Toshiba Satellite Radius has perfected.
4. Gorgeous Touch Display. One of many befitting compliments Toshiba has received for its first flexible workstation. This was made possible by the culmination of a powerful processor, a LED Backlit display with up to 3840×2160-pixel resolution.
5. Perfect Presentation Companion. As Toshiba has mentioned, the Radius is media-centric and presenter-centric. It's a great choice for people whose occupation—or hobby—requires them to work on creating PowerPoints, editing documents, or tweaking images.
6. SSD. The Toshiba Radius was built to run on SSD. In addition, despite the smooth video streaming and playback, some games will run very smoothly. However,  It's going to have a tough time beating the Asus Transformer Book Flip which will have an Nvidia GeForce 840M GPU.
On the downside, there are just some unavoidable kinks on the Radius' armor.
The list below enumerates the cons of choosing the Radius.
1. No more LAN port. The lack of an RGB port is understandable, but losing LAN can be a deal breaker. This is, by far, the most astonishing port omission ever made.
2. Non-retractable keyboard. The keys are comfortable, with adequate travel. It's also automatically disabled once the Radius is bent to presentation, audience and tablet mode. Unfortunately, it's not as impressive as ThinkPad Yoga's retracting keyboard.
Verdict
Although the Toshiba Satellite Radius is a stylish multitasking machine, it's just not cut to be a handy tablet; ironically, the option is made available, safely tucked inside its bag of tricks. For the company's first try in creating a 360-degree hinged laptop-hybrid, the Radius is not that bad. In fact, it has "outflexed" the Yoga in a number of areas.
For instance, the black rubber bumper spanning the perimeter of its chassis is a thoughtful gesture to ensure that the device won't scrape or damage any surface it's placed upon. To keep it from feeling flimsy in tablet mode, magnets were placed on either side of the back to fasten the lids position.
The Radius' size is a breath of fresh air compared to the usual 11-inch and 13-inch models. At 14-inches wide, users get to enjoy a 1366×768-p touchscreen, perfect for watching videos or composing presentations.
Whether the potential owner is willing to do away with the absence of a LAN port is a matter of preference.