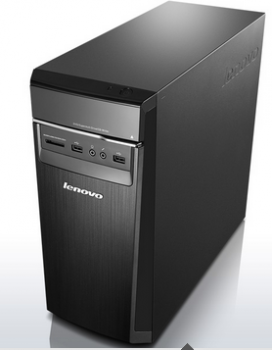 $299    at Lenovo
CLICK TO SEE DEAL >
Save $250 plus FREE shipping on the new Lenovo H30-50 – 90B8006CUS entertainment desktop
Lenovo H50-50 desktop – 90B8006CUS – specifications:
Processor: Intel Celeron G3260 Processor (3.30GHz 1333MHz 3MB)
Operating System: Windows 10
Optical drive: DVD Recordable
Memory: 4.0GB PC3-12800 DDR3 1600 MHz
Graphics Card: Intel HD Graphics 4600
Hard Drive: 1TB 7200 RPM

This is a great price for a machine that you need to handle everyday computing tasks. The H30-50 – 90B8006CUS is small, super quiet,  looks good and works great from the get-go!
The Lenovo H30-50  is very fast, durable and reliable, and has sufficient power to run office applications and the set up/ networking is easy.
Today a desktop is pretty much a commodity,  look for good performance and reliability at a good price – and that is exactly what Lenovo delivered.