Convertibles, like the Sony SVF15N2ACXB (VAIO Fit 15A Flip), are a constant reminder of the laptop industry's steadfast hold on this technology-ridden world.
In an attempt to create the perfect laptop/ tablet hybrid, companies like Lenovo and Dell have put out their own designs for the masses to critique.
Unlike the Dell XPS 12 and the Lenovo IdeaPad Yoga however, the Sony VAIO Fit 15A Flip PC just makes more sense.
Save with latest deals on the Sony VAIO FIT 15A | Flip PC >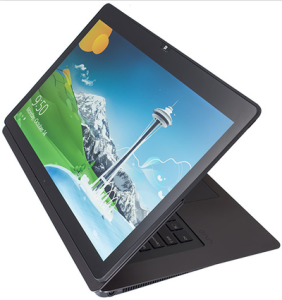 The question now is whether one of the world's lightest ultrabooks (as Sony claims) can fare against the performance of the likes of Acer Aspires' R7 and the rest of the multi-flip hybrids in the market.
Build and Design
First impression on VAIO Fit 15A's design (Sony SVF15N2ACXB) includes the words beautiful, elegant and sophisticated. This flip PC is cased with a brushed aluminum finish in black or silver.
A well thought-out hinge placed in the middle of lid's surface allows the multi-flip mechanisms to work its magic while users convert from viewer to tablet to laptop mode.
As a laptop, the Sony SVF15N2ACXB contains a good number of ports packed in its slim figure.
The island-style keyboard exudes a Mac-like vibe with its crunchy and well-spaced silver keys. And although the keyboard's backlight isn't customizable, it should suffice for working in dark places.
As a tablet, Sony design engineers may have hit the jackpot in creating a smooth and sturdy fold-over mechanism where the keyboard sits comfortably hidden.
On a downside, some users have already found carrying the VAIO Flip 15A in tablet mode quite tacky since it doesn't lie flat like the Yoga.
Take note though, unlike Yoga users, Sony  SVF15N2ACXB (more commonly known as VAIO Fit Flip PC) owners wouldn't have to experience the discomfort of having exposed keys at the backside.
Performance and Graphics
The 15-inch IPS (in-plane switching) display will boast a full HD view at 1920 x 1080-p resolution. Those who want more can upgrade their screen to an ultra-high resolution one at 2880 x 1620-p.
Ultrabooks were never built for extreme gaming. Fortunately, a 2GB NVIDIA GeForce graphics card allows playability on moderate settings for games like Skyrim.
And like most high-end multi-flip convertibles, the Sony VAIO Fit 15A will run Photoshop CS5 with ease. Tap and touch screen functions, including those involving Sony's Stylus or VAIO Active Pen, were highly responsive and accurate.
In one forum, an owner of the Flip 15 mentions how his signature came out as if it were written with any ordinary pen or pencil.
Admittedly, the VAIO Flip 15 did not fare well in benchmark scores against its counterparts Apple MacBook Pro 15, Vizio CT-15 and Acer Aspire R7. Fortunately, due to the level of its performance, being the slowest is barely noticeable.
Connectivity
The era of going wireless all the way is upon the industry. In the VAIO Flip's 13-inch model, Sony has removed the Ethernet due to physical constraints.
The Flip 15, on the other hand, retains the LAN and has three USB ports for wired connections. NFC and Wi-Di is also incorporated in this VAIO Fit.
VGA is no longer an option, but users can still connect their convertibles to their HDTVs via HDMI-out.
Owning a VAIO Fit 15A Flip PC (Sony SVF15N2ACXB) Pros and Cons
As tech gurus have called it a worthy successor to the S15, the Fit 15A should also claim the throne for sensible innovation. This laptop/tablet hybrid is pretty to look at- without having to compromise durability.
Whether it is the best choice for certain users shall be weighed in the following lists.
Pros
1. Bright and Crisp Display. With Sony's know-how on TV displays, it's no surprise that they've carried it over to their laptop creations.
As calling it Triluminos can confuse others, all that needs to be known is it is bright, vibrant and has a wide range of viewing angles.
2. Sturdy and Elegant Hinge System. This type of two-hinge system may have started with Acer Aspire's R7, but as one avid Sony user has mentioned, the Flip 15 has nailed this aspect undoubtedly.
3. Keyboard isn't Sticking Out. Unlike the Yoga, the Sony SVF15N2ACXB 's keyboard does not stick out. The hinge system was designed so that the display does all the flipping.
4. Fast, Responsive and Precise Touchscreen. The VAIO Flip 15A is perfect for artists and designers, not only because of its responsiveness, but also because of the accuracy of its stylus accessory.
Cons
1. Mediocre Battery Life (up to 5 hours). This VAIO model doesn't have the best battery life, especially if considered categorized under tablets. As a laptop, however, it's passable.
2. Awkward Tablet-Mode. Because of its hinge system, the Sony SVF15N2ACXB  isn't capable of lying flat. This may make carrying it in tablet mode a little tacky for frequent tablet users.
Verdict
The Sony SVF15N2ACXB is a one of a kind convertible showcasing how serious Sony is with their designs. Its two-hinge system makes more sense than other convertibles currently out in the market.
This multi-flip PC clearly conveys the message that Sony is catching up with the hybrid advent.
Whether it is a note-worthy successor of the S15 or not, the Sony VAIO Flip 15A will certainly make a name for itself.
Quick Specifications:
Processor: 4th gen Intel Core i7-4500U (1.80GHz / 3.00GHz)
Operating System: Windows 8.1 64-bit
Display: 15.5″ Full HD IPS touch (1920 x 1080)
Memory: 12GB RAM, 1TB (5400rpm) + 16GB NAND flash HHD
NVIDIA GeForce GT 735M w/ Optimus graphics (2GB)
Ports: HDMI out, USB 3.0, NFC
Weight 5.73 lbs
Battery life: up to 4 hours 45 minutes